Some time ago, there were rumors on the network that Renault was creating an electric hatchback called the Air4, but in fact, everything turned out to be much more interesting. The company does have a concept under this name, but this is not an electric car, but an air car – a flying vehicle created on the basis of a conventional car using two-blade propellers. Thanks to the design features and the power of the power plants, the concept is able to rise to a height of 700 meters from the ground, move at a speed of 93 kilometers per hour (26 meters per second) and deliver a sea of ​​positive emotions to the pilot.
The developers of the concept revealed that they used the Renault 4 as a reference, an iconic model that sold between 1961 and 1994 and sold an insane eight million copies. It was in honor of the sixtieth anniversary of this model that the decision was made to develop and assemble a flying car in France. The authors of the project noted that their prototype is completely assembled from carbon – this is necessary to reduce the overall weight of the structure with a sufficient level of structural strength. The air car itself consists of two components – the supporting frame and the cockpit (in order to get into it, the pilot needs to lift the entire body forward).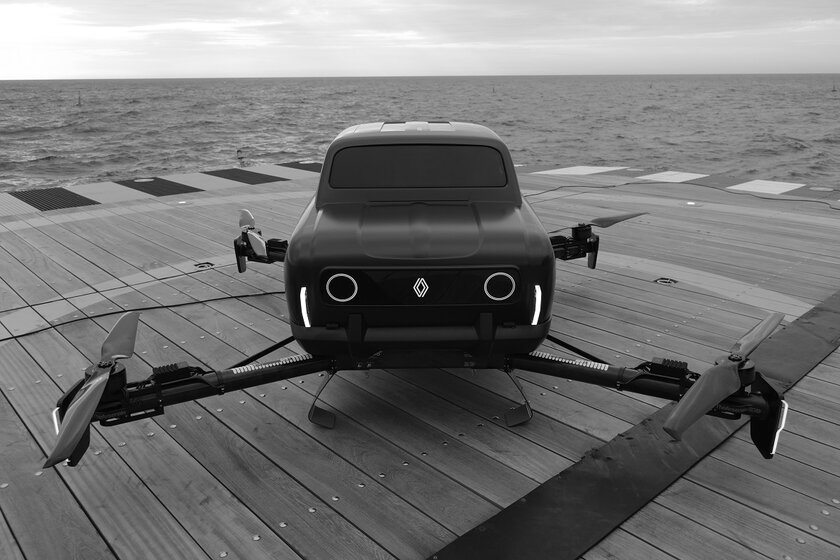 Also, the aircraft is equipped with four two-blade propellers, which are installed in the corners of the body, built in the style of the original Renault 4 car. It all works from lithium-polymer batteries, but the manufacturer, for some reason, did not provide any information about the duration of the flight. Also, Renault representatives do not say whether this model will be refined to mass production or not. But, most likely, the answer is no – such flying cars create more for PR than for conquering a new market.