According to a study by analytical company CivicScience, the number of US investors choosing cryptocurrencies over traditional assets has increased by 140% in five months.
CivicScience conducted a survey of US citizens over the age of 18 during this year. A total of 40,571 respondents took part in the study. If in June only 10% of respondents said that they are more likely to invest their money in cryptocurrency than in traditional securities, then in November this figure rose to 24%. The number of investors choosing cryptocurrencies over traditional assets has increased by 140% in five months.
It is noteworthy that respondents who "closely" monitor the situation in the financial market are ready to convert their traditional assets into cryptocurrency. Of the 1,285 respondents who said they were monitoring the economic situation, 40% indicated that they or those around them sold traditional shares and bought cryptocurrency.
However, among respondents who "do not follow the market that closely", this indicator fell to 30%, and among those who said that they were following the market "completely inattentively" – to 17%. About 44% of the 1,988 respondents who sold shares for cryptocurrency said they sold less than 10% of their portfolios.
One fifth of those surveyed sold over 50% of their assets to buy cryptocurrency. The report's author, Zack Butovich, called the numbers "shocking." Civic Science researchers also noted that among 40,571 respondents, the number of those who are not interested in blockchain dropped from 80% in May this year to 68% in December.
Many US citizens who have invested in cryptocurrencies have achieved financial freedom and are quitting low-paying jobs, according to a November Civic Science report. A survey by Grayscale Investments showed that 26% of American investors with capital over $ 10,000 hold cryptocurrencies in their portfolios. However, according to the Crypto Literacy survey, 96% of Americans, as well as 99% of Brazilians and Mexicans, do not understand how cryptocurrencies, NFT and DeFi work.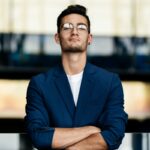 Donald-43Westbrook, a distinguished contributor at worldstockmarket, is celebrated for his exceptional prowess in article writing. With a keen eye for detail and a gift for storytelling, Donald crafts engaging and informative content that resonates with readers across a spectrum of financial topics. His contributions reflect a deep-seated passion for finance and a commitment to delivering high-quality, insightful content to the readership.