Electric car maker Rivian, which announced last November that the first version of the Rivian electric pickup truck was completely sold out, planned to begin production in June this year. This meant that the first customers would receive their cars in July. However, according to the latest information, deliveries have been postponed.
Reuters had a letter signed by the CEO of Rivian sent to buyers. It says that due to supply chain problems, the company will delay deliveries of its debut car by more than a month.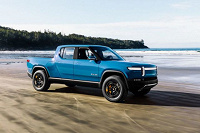 More specifically, the first deliveries of the R1T pickup truck from July have been postponed to September, while deliveries of the R1S SUVs have been postponed until the fall.
"The cascading impact of the pandemic has had a greater impact than anyone expected," CEO RJ Scaringe said in a letter.
"Everything was affected, from the construction of the facility to the installation of equipment and the supply of vehicle components," he continues.
The source recalls that the California-based startup, backed by Amazon and Ford, plans to go public later this year. According to Bloomberg News, he can count on an estimate of about $ 70 billion.