The engineering companies "Active Techno" and "A priori solutions of machines" successfully conducted the first sea trials of the communal tractor "KM Universal" with an electric drive. The new machine was built on the basis of mass-produced at the Cheboksary Plant of Power Units (ChZSA) utility vehicles with an internal combustion engine.
In parallel with the tests, the companies are preparing for submission to the Ministry of Industry and Trade a plan for import substitution of key electrical components, which in the future can also be used in electrical storage equipment, which will allow by the end of 2022 to switch to the serial production of electrical equipment for use in greenhouses and municipal services.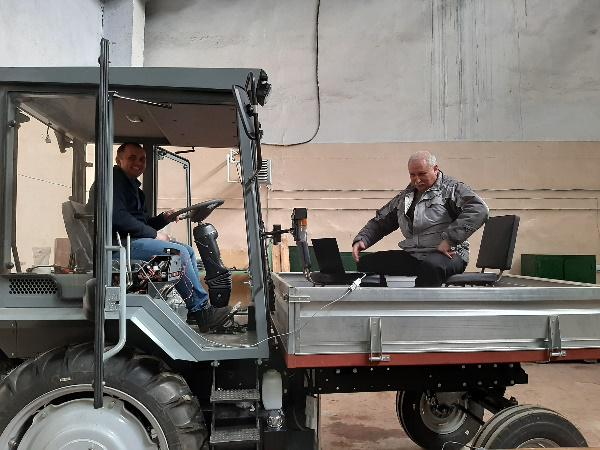 Work on the creation of an electric tractor began in mid-2021. The engineers of Aktiva Techno and AWP not only developed the documentation, but also assembled the first sample of a new machine that is powered exclusively by a battery and does not have the usual internal combustion engine. Instead of an internal combustion engine and a hydrostatic transmission, the tractor chassis received a battery and an electric drive system that ensures not only the movement of the machine, but also the operation of attachments.
The first example of an electric communal tractor has a speed of up to 30 km/h. The tractor can transport more than one ton of cargo in a dump body, while additionally providing the work of various attachments. Due to the intelligent control system for electric drives, we get the opportunity to distribute up to 90% of the total power of the equipment to the operation of attachments, in contrast to similar machines with internal combustion engines, where this figure, as a rule, does not exceed 65%.
Source: ixbt