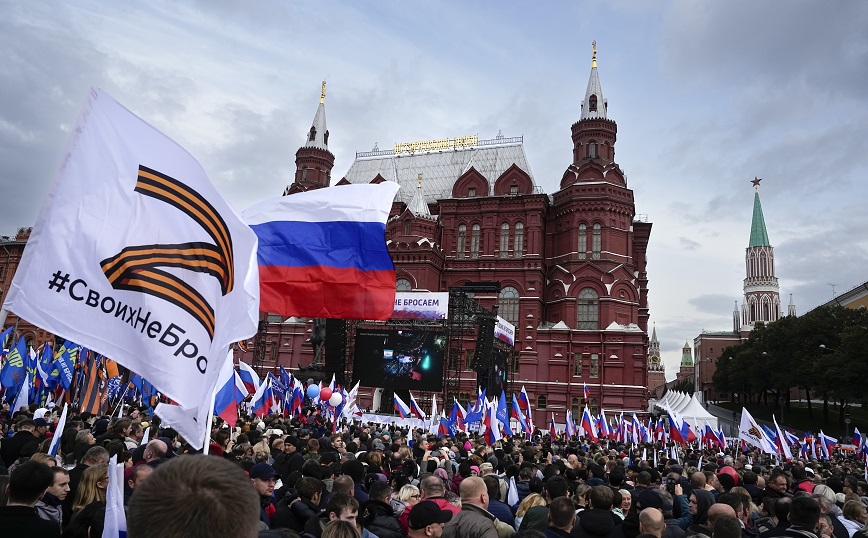 Thousands of its inhabitants of Russia poured into the streets and demonstrated in favor of the referendums to be held in Ukrainewhere the goal is the secession of the regions where the Russian-speaking population lives.
As Agence France-Presse reported, in Manez Square, the crowd gathered in front of the statue of Marshal Zhukov, perhaps the most important military leader of the Soviet Union during World War II. On the platform that had been set up on this occasion, many representatives of political parties went up to defend, one after the other, the "referendums".
"For freedom", "The beginning of a new common history" or "a historical moment" were some of the slogans that were heard.
Those gathered held Russian flags with the letter "Z", the symbol of the military operation in Ukraine, or orange and black St. George ribbons, the symbol of the Red Army's victory over Nazi Germany.
Many placards read the slogan "We will not abandon our people", a message to the Russian-speaking people of Donbas, Kherson and Zaporizhia, whom Moscow says it wants to "save".
In St. Petersburg, a few hundred protesters also gathered around the Peter and Paul Fortress, the historic center of the city.
A 20-year-old student, Sergei Korzunov, told AFP he supported the referendums because "if these people want to join Russia, we will not argue." A little further away, 40-year-old Viktor Suvorov said he "wants peace, for people to stop dying, for soldiers to go home." "These referendums are a step towards peace," he wants to believe.
"The residents (of the areas Russia wants to incorporate) have been suffering for eight years," said Anna Glazkova, a 58-year-old woman, to justify her presence at the rally. This argument was invoked by Natalia (she did not want to give her last name) because "the people of Donbass and other regions are waiting for our help" after "they killed them, destroyed them, bombed them".
About 50,000 people also gathered in Grozny, Chechnya, according to local authorities. Demonstrations also took place in various cities in Siberia and the Russian Far East.
Source: News Beast