Experts of the analytical company IDC summed up the results of the last quarter in the market of equipment for wireless local area networks (WLAN). According to their calculations, the specified market increased by 0.4% compared to the third quarter of 2020. However, this value confirms the joke about the average temperature in the hospital.
The fact is that in two market segments, a diametrically opposite situation is observed. While in the corporate segment an increase of 11.9% was recorded, in the consumer segment, sales decreased by 7.3%. The above general indicator is enough to understand that the consumer segment is significantly larger than the corporate segment in monetary terms. Indeed, it was $ 2.4 billion, and the corporate one was $ 1.9 billion.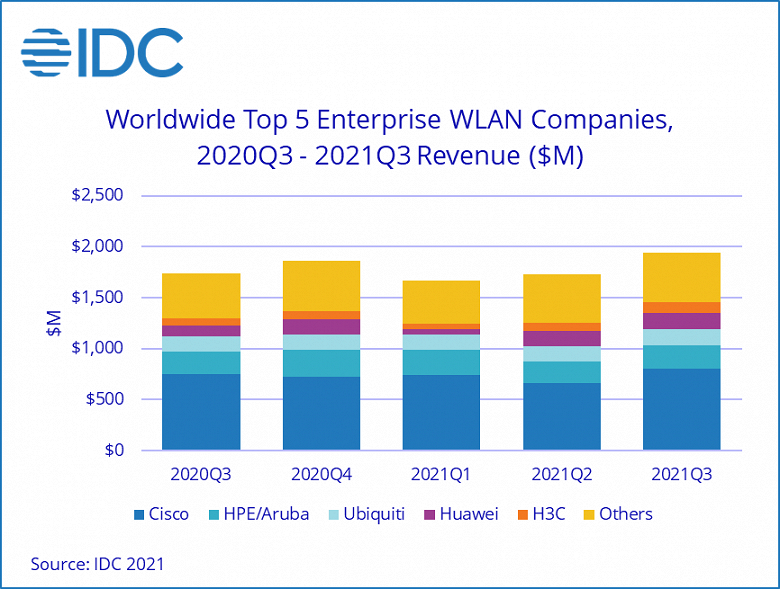 Cisco, a leading supplier of enterprise WLAN equipment, was able to increase sales of these products by 7.7%. The share of Cisco at the end of the quarter was 41.5%. In second place is HPE-Aruba with 11.8%. This manufacturer managed to increase sales by 5.0%. The third place with 8.2% is occupied by Ubiquiti, which was able to increase sales by 6.5%. It is followed by Huawei with 7.8%. She increased sales by 36.6% over the year. And H3C closes the top five with a share of 5.8%. It increased sales by 56.3%.
.