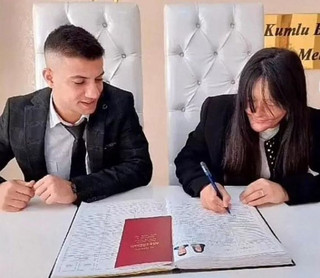 Sensation has been caused by a news item coming from Turkey, as one A 20-year-old decided to marry the man who threw acid in her face, as a result of which she lost 70% of her vision from her right eye.
The incident took place in 2019 in the Turkish province of Hatay, when 23-year-old Kasim Ozan Celtic attacked 20-year-old Berfin Ozek with acid after their separation. In fact, shortly before the attack the perpetrator had threatened the victim that if he did not have it, no one would have it.
The offender was sentenced to 13 years and six months in prison, but due to a change in the law due to a pandemic he was released earlier on restrictive terms.
According to Turkish media, after his arrest the perpetrator "bombarded" the victim with messages of love and apology and asked the 20-year-old to forgive him. The young girl was persuaded to withdraw the lawsuit she had filed against him but after the uproar that was created on social media, she asked her lawyer to proceed.
Immediately after his release in the first days of December, the perpetrator proposed marriage to the victim and she accepted. The girl's father, Yasar Ozek, said of his daughter's wedding: "He got married without our knowledge. "I fought for her for years and now everything has been in vain."
The 23-year-old's lawyer stated that the release of the perpetrator had nothing to do with his marriage and that if the law was not changed due to a pandemic, he would normally serve his sentence.
The couple has been severely criticized on social media but keeps a quiet fish, at least for now. After the wedding, many internet users harshly criticized the young girl for her decision to unite her life with the man who deformed her.
"If I am asked who is the stupidest man in the world, I will answer by giving this woman a name. "Next time this man will scratch her alive," one user wrote. Another commented: "Her forgiveness should not prevent his punishment. It is a pity, I hope it does not happen, but this marriage will end in one to two months and the unfortunate woman will be left with the violence she experienced ".