Samsung has announced changes to its Samsung Upgrade program to improve value for money. Users will be able to save 60% by paying 40% of the cost of a smartphone when upgrading to a new model in a year. If you have been using your smartphone for two years, then the benefit will be 25%.
The new conditions apply to smartphones of the Galaxy S21 series, as well as Galaxy S20 FE throughout Russia, subject to ordering a smartphone with delivery. The Samsung Upgrade program allows you to use your smartphone, but not pay the entire cost at once.
It is important that payments under the program are 25% lower than when choosing to purchase in installments for 24 months. For example, the monthly payment for Samsung Upgrade for the Galaxy S21 will be RUB 2,343, and for an installment purchase, RUB 3,125. Galaxy S20 FE will cost only 1,562 rubles. by Samsung Upgrade, and in case of installments, the monthly payment will be 2,083 rubles.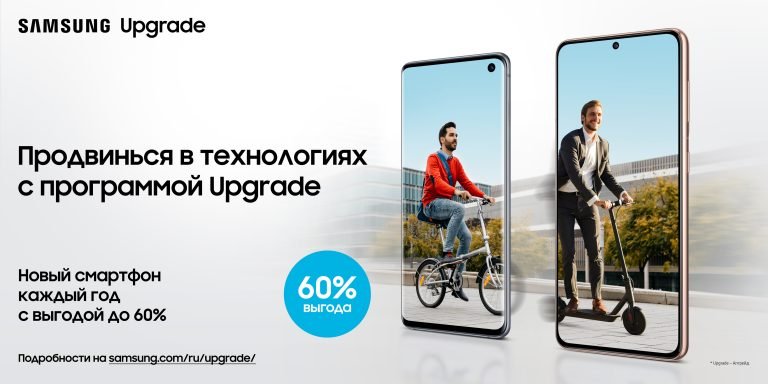 The exchange process itself has become much easier: you just need to hand over the device to the courier and get a new one. You can extend the warranty for a year and contact the service center once for a free screen or back panel replacement for 9990 rubles per year or 416 rubles per month. You can also issue a guarantee for 14,990 rubles per year (625 rubles per month) in order to be able to replace the glass twice.
All details can be found on the program website.
.