Every year millions of Americans make resolutions, and every year those same Americans fall short of reaching their goals.
To fuel a commitment toward a healthier financial well-being in 2020, the Invest In You team asked readers and viewers to reveal their goals. The response was overwhelming — and humbling.
Several themes emerged, including investing in future generations, getting out of debt, owning a business and saving for retirement. Below are highlights from some of the respondents.
EDUCATION & STUDENT LOANS
Sara, Brooklyn, New York: "I am invested for financial freedom from student loans. I am also invested for the sake of having flexibility and charitable freedom. I'd like to be able to freely give towards nonprofits without the hassle of worrying about my funds."
Briana, Los Angeles: "I pledge to further my education. I would love to achieve a Ph.D. degree."
Gary, Moraga, California: "I pledge to get invested to establish a college education fund for my granddaughter and provide a boost to the financial future for the younger family members."
Larry, Cleveland: "I'm a first-generation graduate aspiring to own a business one day. I currently work at a bank, and I pledge to invest in my IRA, 401(k) at work and my Acorns account."
HOME OWNERSHIP
Katherine, Universal City, California: "I pledge to invest more in my new home for my future kids and to raise its property value. Since we bought the house, we've had to start from scratch with our savings. I also pledge to save for my future."
Sam, Los Angeles: "I've got a lot of debt that I'm still trying to tackle, but I pledge to get it under control and actually start saving for a down payment on a house."
RETIREMENT
Megan, Glendale, California: "I pledge to learn how to invest and save for retirement because — let's be real — a 401(k) can only go so far."
Rodney, Pompano Beach, Florida: "I'm getting invested so I can have enough money in retirement to continue living the same lifestyle, including donating to my church, family and friends."
PASSING DOWN
Martel, Tacoma, Washington: "My mother died last year, and she wasn't in a position to pass anything on to her children. I pledge to get invested so I don't make that same mistake."
Susan, Alliance, Ohio: "I am invested for the long run — to teach my children and grandchildren the value of saving, investing and giving back."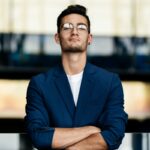 Donald-43Westbrook, a distinguished contributor at worldstockmarket, is celebrated for his exceptional prowess in article writing. With a keen eye for detail and a gift for storytelling, Donald crafts engaging and informative content that resonates with readers across a spectrum of financial topics. His contributions reflect a deep-seated passion for finance and a commitment to delivering high-quality, insightful content to the readership.