Thousands of people demonstrated yesterday Sunday in Belgrade against the holding in the Serbian capital of EuroPride, a pan-European gathering of the LGBTI community.
In recent weeks, tensions have been escalating in Serbia, where EuroPride organizers are determined to hold a culminating pride march next Saturday, even though the authorities want to ban it.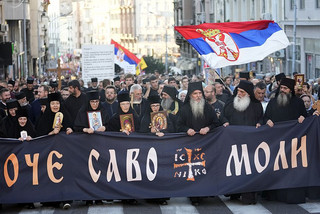 Holding up icons, religious flags and crosses, some have announced they will hold demonstrations if EuroPride organizers go ahead with their plan to hold a pride march.
Serbian President Aleksandar Vucic, who announced in late August that the parade "will be postponed or canceled", he said on Saturday that the police will announce 96 hours before the event (i.e. Tuesday) whether it can finally be organized or not.
President Vucic cited "security" reasons, linked to escalating tensions in Kosovo — which declared independence from Serbia in 2008 but is not recognized by Belgrade — and energy-related problems.
EuroPride organizers criticized Vucic's statements, stressing that the government has no right to cancel the march. The first two LGBT pride marches in Belgrade, in 2001 and 2010, were marred by violent incidents. Since 2014 it has been organized regularly, in the presence of a strong police force.

Source: News Beast