Kioxia has announced the launch of EM6 series solid state drives for storage systems such as EBOF (Ethernet Bunch of Flash). To obtain high data transfer rates, these drives use the NVMe-oF (NVMe over Fabric) protocol, which differs from NVMe in that it is not PCIe, but Ethernet as the transport layer.
NVMe-oF support is provided by the Marvell 88SN2400 controller, which we have already discussed. Basically, it converts NVMe SSD to SSD with one or two 25 GbE ports.
With performance scalability, NVMe-oF-based storage is well suited for applications such as artificial intelligence, machine learning, supercomputing, and storage expansion. When expanding disaggregated HA block storage, the same configuration can support multiple host systems, providing shared and scalable block storage with the high throughput of NVMe SSDs.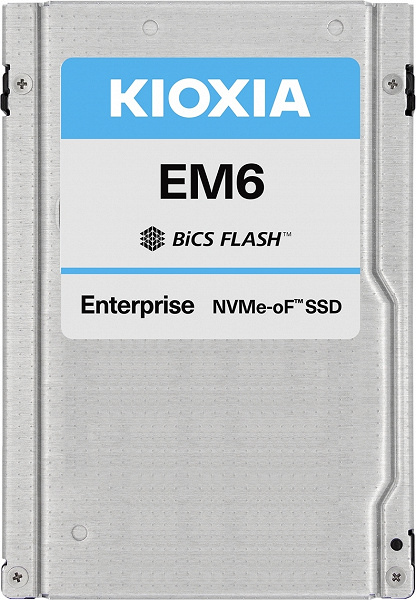 Speaking about the characteristics of the EM6 series SSD, the manufacturer notes compliance with the NVMe-oF 1.1 and NVMe 1.4 specifications. The drives are made in the classic 2.5-inch size. Their thickness is 15 mm. Available in 3,840 and 7,680 GB sizes. The resource in both cases is declared as the possibility of one complete rewriting per day during the five-year warranty period.
The Kioxia EM6 series drives are already available as part of the ES2000 EBOF platform from Ingrasys, a subsidiary of Foxconn. The ES2000 2U storage system accommodates up to 24 drives.
.