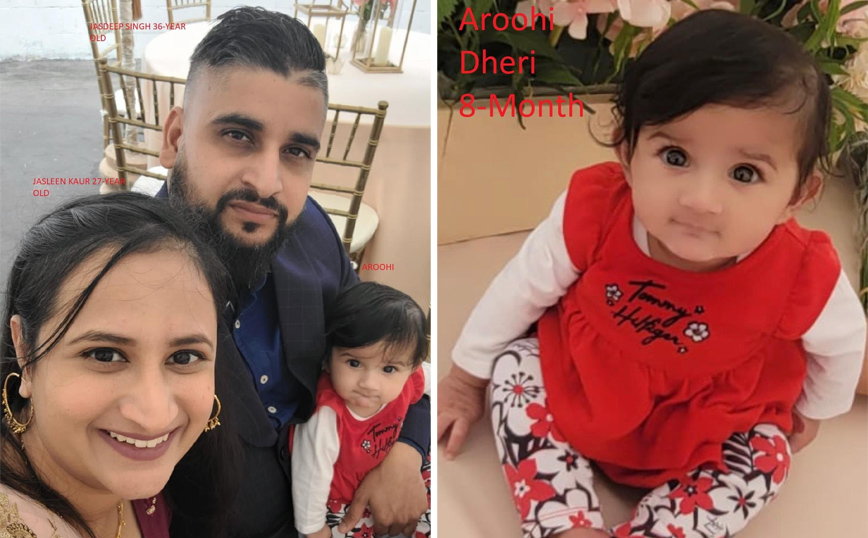 The four family members in Californiaof which one was one 8 month old babywhere they had been kidnapped on Monday from Merced, were found dead yesterday, Wednesday, in a rural area, the authorities announced.
The victims have been identified as 8-month-old Aruhi Deri, who was abducted along with her 27-year-old mother Jasleen Kor, her 36-year-old father Jasdeep Singh and the baby's 39-year-old uncle Amadeep Singh. Police said the four were abducted Monday morning from the family's trucking company in Merced, which is about 150 miles (240 kilometers) east of San Jose.
"Tonight our worst fears were confirmed. We found the four people from the kidnapping and they were dead," Merced County Sheriff Vernon Warnke said at a news conference.
Characterizing the incident "horribly absurd," Warnke noted that the motive for the crime is not yet known and added that the police were alerted by a farmer.
Merced County authorities announced, according to APE-MPE, that 48-year-old Jesus Manuel Salgado is suspected in the deaths of the four people and has been taken into custody. Authorities are trying to speak with Salgado, who is hospitalized after the suicide attempt he made before he was arrested, to determine if another person was involved, Warnke said at a news conference.
"We are devastated. We are shocked" said a family relative, who asked to be identified only by his first name, Ballwinter, during the interview.
Warnke noted that the family of the victims had been informed by police of their deaths.
"We got information from the suspect. We won't reveal them at this time, but the suspect is talking to usconcluded the Merced County Sheriff.
Police showed video from a security camera outside the family's trucking company in Merced showing a man with his face covered in a medical-style mask first removing brothers Jandeep and Amandeep and then Kor and her daughter.
Police were alerted to the crime when a black pickup truck belonging to Amadeep Singh was found burning on the side of a county road. During their investigation, police were unable to make contact with the family and found that they had been kidnapped, which led them to the trucking business.
Authorities arrested Salgado after the family's ATM card was used at a nearby bank.
Source: News Beast