- Article Top Advertisement -
New information sees the light of day regarding the massacre that took place yesterday, Tuesday (30/11) at a school in Michigan. According to the authorities the 15-year-old who killed three of his classmates and injured eight others opened before with a semi-automatic weapon that his father had bought a few days ago.
Oakland County Sheriff Michael Bouchard told a news conference that police investigators were unable to explain what might have caused the "unspeakable and unforgivable" act of violence.
- Article Inline Advertisement 1-
The suspect, a student of the 2nd Lyceum, who was disarmed and arrested by the sheriff's assistants some minutes after he started firing, refused to speak to police after his parents appointed a lawyer, who refused to allow authorities to interrogate their son, the sheriff added.
"The person who knows the most about motivation does not speak", said Bouchard.
The sheriff also noted that does not know if the suspect previously had problems with law enforcement He added that "there is nothing to suggest that there were issues of discipline or problems with him at school".
During the incident that occurred around noon at Oxford High School in Michigan, which is located about 65 miles north of Detroit, Terrified students and teachers hiding inside the school flooded the county emergency center with more than 100 calls for help, according to the authorities.
Bouchard praised the immediate mobilization of his aides, who, he added, arrived at the scene within minutes and headed straight for the shots, preventing a much larger bloodbath.
They were confronted by the young suspect, who was walking towards them in a corridor with a full gun, before he raised his hands and put them behind his head and surrendered, according to the sheriff.
The exact sequence of events that took place during the attack remains unclear, but police believe the boy brought the gun to the school with it in his backpack, he added.
"The only information I have is that he came out of the toilets with a gun and I do not know where he went first", clarified as broadcast by the Athenian News Agency.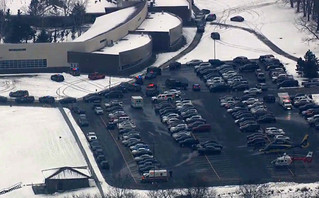 The prosecution will decide whether the perpetrator will be tried as an adult or a minor
The police will hand over the information to the prosecutor's office at the end of their investigation, which will decide what charges will be brought against the perpetrator and whether he will be tried as an adult or a minor, according to the sheriff.
The 15-year-old suspect, whose name has not been revealed by the authorities because he is a minor, is currently being held in a special cell where he is being monitored to avoid possible suicide, said Oakland County official David Coulter.
The three students who lost their lives are a 16-year-old boy, who succumbed to his injuries while being transported to the hospital by patrol, and two girls, aged 14 and 17, according to authorities.
Of the 8 injured, 7 were students, of whom 2 are being treated for bullet wounds to the head. Also at least 2 girls, aged 14 and 17, according to Bouchard, were seriously injured in the chest and one of them has been intubated.
A teacher with a shoulder injury was also admitted to the hospital, who was later discharged.
Assistant Sheriff Michael Maccabi also clarified that the 15-year-old shot 15 to 20 times with the semi-automatic pistol while the incident lasted no more than 5 minutes.
The boy was armed with a semi-automatic pistol, which his father had bought on November 26, along with three cartridges of 15 bullets, Bouchard added, adding that the 15-year-old was apparently "shooting" with the gun before yesterday's attack and had posted on the internet photos of the gun and a target he was using.
Joe Biden: My Thoughts on Families Experiencing This Unbearable Pain of Loss
"My thoughts are with the families who are going through this excruciating pain of losing a loved one," he said. Joe Biden to reporters during a visit to a vocational high school in Minnesota.
The latest in a long string of bloody shootings in US educational institutions and schools is expected to once again spark discussions about gun control and mental health services, as many states allow easy access to firearms while rioters mental health are often not treated.
"This is a very American problem that we have to deal with," said Michigan Governor Gretchen Whitmer, who rushed to the scene and appeared before reporters with Assistant Sheriff Maccabi.
I am Derek Black, an author of World Stock Market. I have a degree in creative writing and journalism from the University of Central Florida. I have a passion for writing and informing the public. I strive to be accurate and fair in my reporting, and to provide a voice for those who may not otherwise be heard.
- Article Bottom Advertisement -