Among the criteria for purchasing a new laptop were the ARM platform and the ability to use applications from a mobile phone. Since I spend more time with a computer rather than a smartphone, I considered it logical to transfer all the programs I need to the big screen, including banking ones. I bought a MacBook Air on the M1, tried it out, and realized that I would only use apps for the iPhone and iPad on it as a last resort. Software that was designed for small touch screens with multi-touch is not suitable for trackpads and physical keyboards. Yes, and it works quite crookedly. Apple computers on ARM do have enough advantages, but using mobile applications on them is a trick for the sake of a chip.
Most mobile apps don't work on PC
Some programs can be installed but not used
I remember very well my enthusiasm when I took a brand new MacBook Air on M1 out of the box, went through the initial setup procedure and rushed to install all the programs I needed. I got to the mobile software and noticed how quickly the enthusiasm for the new piece of iron disappeared. It turned out that most of the banking programs that are available on the iPhone and even the iPad simply cannot be installed on macOS. The fact is that developers of applications for iOS (and iPadOS) can independently limit the possibility of using them on computers. This was done with a slight movement of the hand, for example, in the Tinkoff bank. Apparently, they decided that it was easier to get an iPhone out of their pocket or use the web version of the service.
Tinkoff offers to use a lot of mobile applications on the Mac, but does not allow its banking application
If the developer has not limited the ability to install a mobile application on a computer, can it be fully used? No matter how! A prime example is the Binance mobile app. For macOS, there is also a full-fledged client of the most popular exchange for working with cryptocurrencies, but small operations, it seems to me, are easier to do through a simpler iPhone program. It will be possible to install it on a Mac through the App Store, but authentication in my account does not work for me personally. Softina stubbornly does not send SMS for confirmation, no matter how many times I try to do this. At the same time, a message comes through a smartphone in just seconds. So it turns out that the mobile application, as it were, was allowed to be used on a computer, but this cannot be done.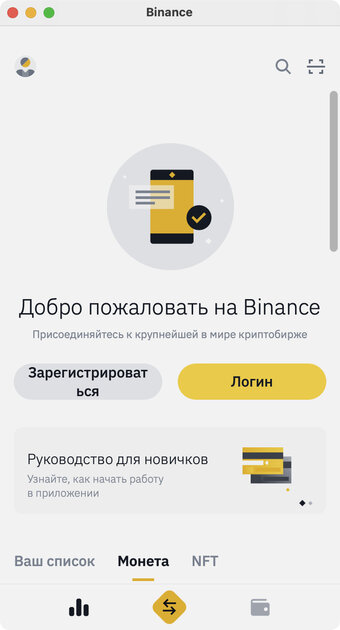 I don't know what the problem is, but I can't authenticate in the Binance mobile app on my computer
Mobile apps usually work extremely poorly
For example, they simply do not have access to the file system
Many mistakenly believe that all Apple operating systems are actually closed from full use – all the software in them is limited to individual sandboxes. In fact, this only applies to mobile platforms. In the case of macOS, applications can interact with any file in the Finder, which makes life a lot easier. But this, of course, only applies to full-fledged software, which was originally conceived for the desktop. With mobile, you shouldn't even think about anything like that. Any files in them will have to be imported first, and only then try to somehow interact with them. To get around this limitation, as far as I understand, the developers simply do not have the opportunity.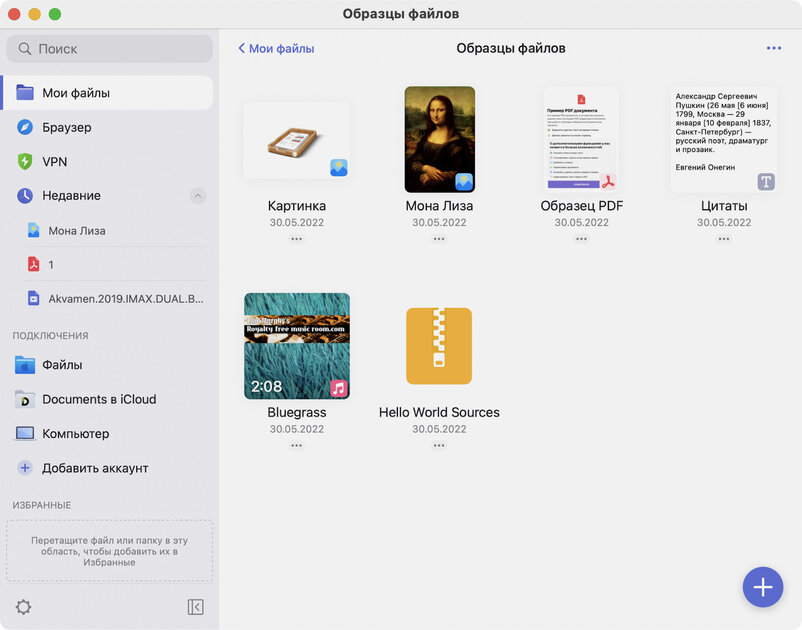 The Documents multimedia combine – this was expected – does not understand that it has been installed and is trying to use it on a Mac
Ran into this while actively using Readdle apps. The company said that their Documents file processor (its tablet version) on Mac could almost become the ultimate Finder replacement with the ability to open files of any type. In fact, the application does not understand that it works within macOS. Documents can be imported into it from the file system, but it is not clear what to do with them later. For example, it will not be possible to fully interact with them through third-party software: process photos or change data in tables. It seems that it would be better to make a full-fledged add-on for Finder with Documents chips for interacting with any files. But in a mobile format, this application on a computer is definitely superfluous.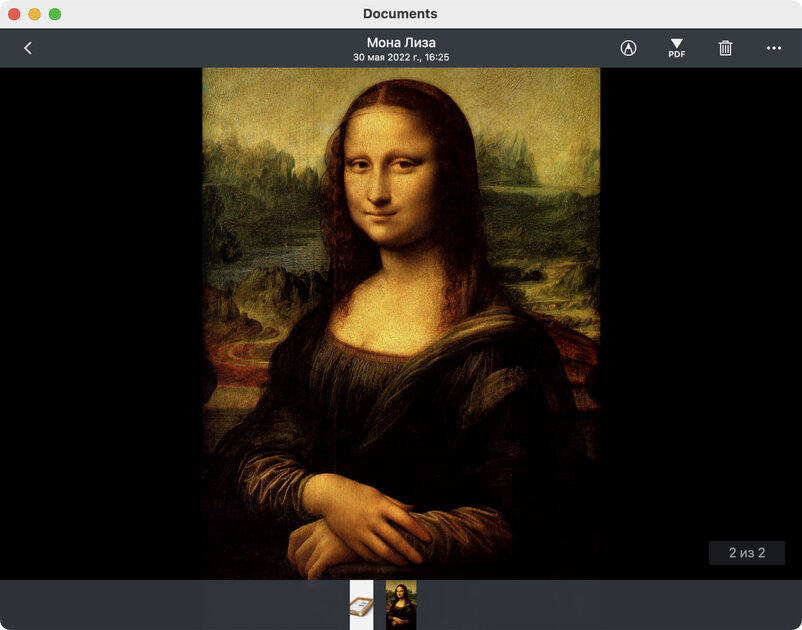 We managed to open this test image from Documents in Affinity Photo and make edits, but they simply were not transferred to the file manager
The interface of mobile programs often cannot be stretched in any way
Touch control under the trackpad and buttons can not be rebuilt
When you open the App Store on your Mac on the M1, the Recent menu brings up a section with the best iPhone and iPad apps you should definitely install on your computer. What to do, you need to try. Programs that were originally developed for tablets interact more or less adequately with a large screen. They, at least, can be stretched to increase the useful area of ​​​​interaction. But the software, sharpened for smartphones, "lives" in its small windows. It is not very comfortable to work with such people, so natural questions arise about the appropriateness of such an undertaking.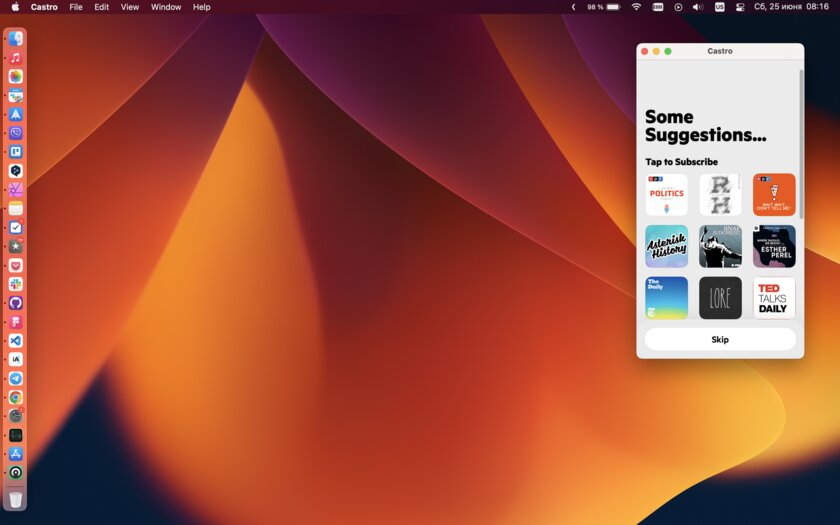 The Castro podcast manager recommended by mobile software for Mac is not very convenient to use in such a small interface
Games can be another reason to use mobile applications on a computer – at least in the case of a Mac. I thought it would be great to play my favorite Chameleon Run on the big screen, but it turned out to be practically impossible without auxiliary equipment. To control the runner on a smartphone, you need to sharply touch the left and right parts of the screen. On a Mac, this can theoretically be done with the cursor, but you definitely won't be able to change its position in time. If you hold down Option (⌥), the trackpad reads the position of the click and simulates touching the screen. This seems to be convenient, but you have to put headphones or another object on the indicated button in order to clamp it and control the game with two hands. Such are the innovations.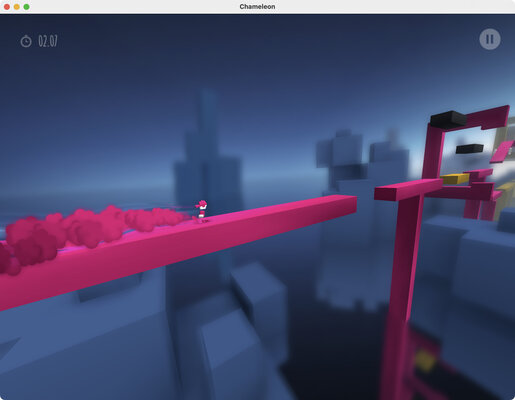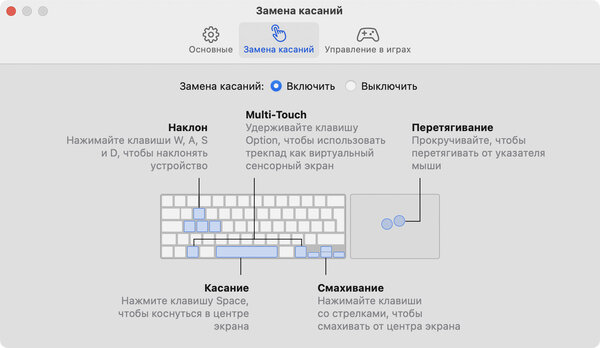 Controlling fast-paced mobile games on a Mac is very difficult – you need at least three hands
Summing up: mobile applications on the computer are not needed
It's easier to find web versions of services or get a smartphone
In general, after numerous attempts to find a use for mobile software on a computer, I had to give up. If you share real scenarios of its use, I will be extremely grateful. At the moment, I think it's just a feature for the sake of a feature. In the vast majority of cases, it is much more convenient to use the necessary software on a smartphone, find a replacement for it on a computer, or simply launch your favorite services through a browser. It is quite possible that the situation will change in the future, but today most of the necessary applications for iOS (iPadOS) simply cannot be installed on macOS, others do not work at all or do it very poorly, they are simply inconvenient to use. However, all of the above does not make the MacBook Air on M1 a bad computer for every day, but that's a completely different story.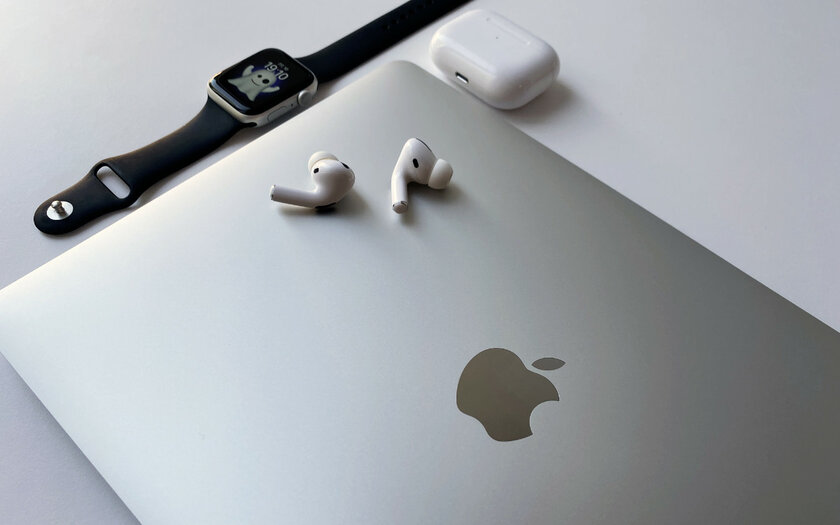 This is a MacBook on M1, and you only need to install software adapted for macOS on it. Mobile is not worth it
Source: Trash Box