Soldiers break bricks with their hands and bend bars with their necks – The βίντεο unreal video from North Korea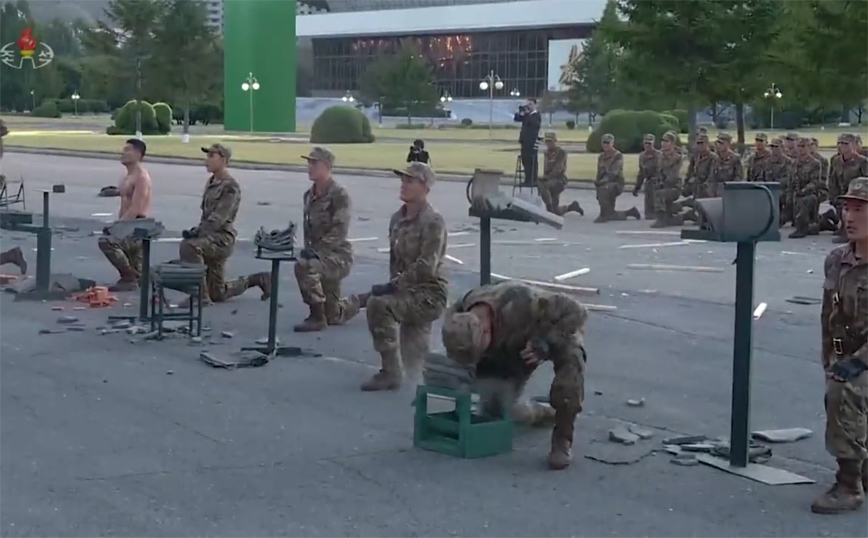 Incredible are the images from the video on the demonstration of the strength of the soldiers in North Korea, who do various… surreal things, such as breaking a concrete block placed on a soldier's chest, or making pieces of bricks by hitting them with the bare hand.
Footage of the demonstration, which was attended by enthusiastic North Korean leader Kim Jong Un and the country's military leadership, was broadcast on state television on Tuesday (October 13th), North Korean analyst Martyn Williams was quoted as saying by the Telegraph. .
The video came after a speech by Kim Jong Un, who stressed that the development of weapons was necessary for the country's self-defense and to counter hostile policies by the United States and South Korea.
The video was posted on his twitter account by journalist Martyn Williams, who specializes in North Korea:
North Korea: Movie-like images
The video shows soldiers breaking bricks with their hands while one manages to hit it with his head! Others break with a sledgehammer a concrete block that has been placed on the chest of a soldier, while another protagonist of the show manages to break chains that were wrapped around his arms.
The image of two soldiers bending an iron bar using only their necks is still incredible, but also the one that shows a soldier lying on glasses.
Kim, whose the last appearance was commented, he was dressed in a dark suit he seems excited to applaud while his younger sister is sitting behind him expressionless.