Stocks closed higher on Monday, resuming the rally that started last week amid news the U.S. will remove China from a list of currency manipulating countries, increasing optimism ahead of the signing of a key trade agreement.
The S&P 500 gained 0.7% to close at 3,288.13, hitting a record high. The Nasdaq Composite also notched an all-time high, advancing 1% to 9,273.93 as Tesla shares surged. The Dow Jones Industrial Average rose 83.28 points, or 0.3% to 28,907.05.
Goldman Sachs and Cisco Systems rose more than 1% each to lead the Dow higher. The S&P 500 was lifted by the tech and real estate and materials sectors, which advanced at least 1.3% each. Apple shares also rose 2.1% to hit a record high.
The decision to take China out of the currency manipulator list comes more than five months after the country was added to it.
"It seems like things are going the right way," said Christian Fromhertz, CEO of The Tribeca Trade Group. "As we get closer to Wednesday, we're getting more positive news on the matter."
Traders work on the floor at the New York Stock Exchange, December 9, 2019.
Brendan McDermid | Reuters
The deal, which is scheduled for signing on Wednesday, is expected to lower tariffs on some Chinese-made goods, as well as increase China's purchases of U.S. agricultural products. After a lengthy translation process in recent weeks, Treasury Secretary Steven Mnuchin said China's commitments remained unchanged. Mnuchin noted on Sunday that this is "a very, very extensive agreement."
According to a Wall Street Journal report, the U.S. and China have agreed to hold semiannual talks to resolve disputes and push for reforms. China and the U.S. have been locked in a trade war for about two years, stoking concerns over corporate profits and global economic growth.
To be sure, The South China Morning Post reported the Chinese government said the trade war is "not over yet," adding the signing of Wednesday's agreement is just the "first round of a game."
The major averages posted record highs last week as concerns about an escalation in U.S.-Iran tensions faded, bringing down oil prices. The decline in oil prices eased fears of a swift jump in energy costs in the near term.
Tensions between Iran and the U.S. flared up earlier this month after the U.S. assassinated Qasem Soleimani, a top-ranking Iranian general.
Soleimani's assassination "was front and center of literally every major newspaper, website and broadcast last week, and the investment community was braced for more fallout in financial markets," said Chen Zhao, chief global strategist at Alpine Macro, in a note. "However, the crisis has disappeared as quickly and unexpectedly as it came, and the melt-up in stocks has resumed."
Investors also looked ahead to the start of the corporate earnings season. Citigroup and J.P. Morgan Chase are among the companies set to report earnings. Expectations for the earnings season are low, however.
S&P 500 earnings are expected to have declined by 2% in the fourth quarter, according to FactSet. If that estimate holds true, it would mark the fourth straight quarter of declining earnings, FactSet data shows.
"If those earnings come out below estimates, we could see some volatility," said Loreen Gilbert, president of WealthWise Financial. She noted, however, that earnings can still catch up to the market's lofty valuations, but it might not happen this quarter.
Tesla shares rose 8.5% after an analyst at Oppenheimer hiked his price target on the stock to $612 per share from $385 per share. The analyst said Tesla's "risk tolerance … and larger ambition than peers are beginning to pose an existential threat to transportation companies that are unable or unwilling to innovate at a faster pace." The stock broke above $500 for the first time ever.
—CNBC's Silvia Amaro contributed to this report.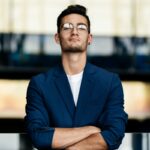 Donald-43Westbrook, a distinguished contributor at worldstockmarket, is celebrated for his exceptional prowess in article writing. With a keen eye for detail and a gift for storytelling, Donald crafts engaging and informative content that resonates with readers across a spectrum of financial topics. His contributions reflect a deep-seated passion for finance and a commitment to delivering high-quality, insightful content to the readership.