According to research Parsec Finance founder Will Sheehan, a whopping 83% of Ethereum coin investors are now at a loss. But that figure could rise if the price of Ethereum, which is hovering around the $1,000 level at the time of writing, drops to triple digits.
Will Sheehan posted a chart on July 1 showing that only 17% of people staking Ethereum are still making a profit. This number includes those investors who started staking when cryptocurrency prices were below current levels. Most of them placed staking tokens at a time when ETH was valued in the $2,500 to $3,500 range.
The chart only shows the prices at which people started staking and does not take into account the additional ETH rewards, which are currently around 4.2% per annum.
The one who started staking tokens more than a year ago wins
The Glassnode chart from June 30th confirms that people who have been staking tokens since the start of the cryptocurrency growth are now in the red. However, the chart only shows the price of ETH at the time people started staking, not at the time of purchase, so these numbers may be somewhat skewed.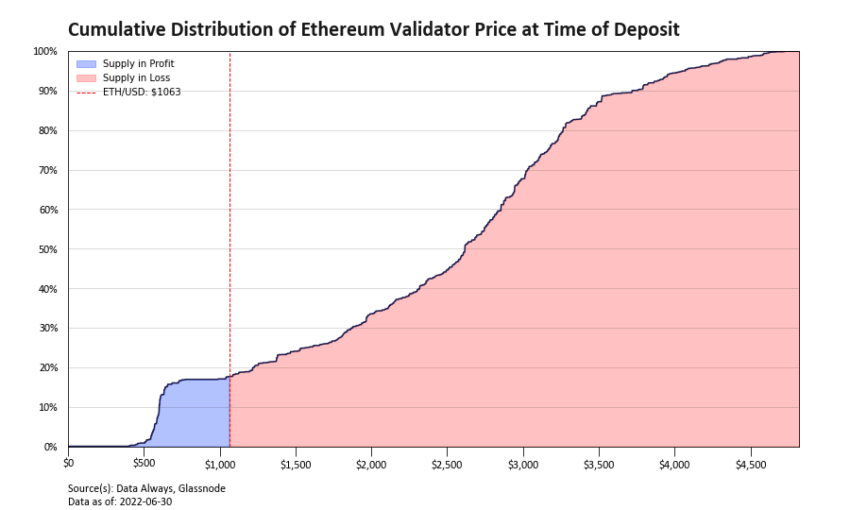 When the Beacon network went live in December 2020, ETH was valued at just over $600. By the end of the month, it reached $750, and by January 5 it was already worth about $1,050. Thus, only those who staked tokens between December 1, 2020 and January 5, 2021 should still be in the black at this point.
The ultimate crypto capitulation could push Ethereum prices to levels that would put all investors in the red. Daniel Cheung, co-founder of Pangea Fund Management, predicts that the value of ETH will drop to around $500 in the next two months.
At the time of writing, 13.6 million ETH have been staked on the Beacon network. At current discounted prices, this is valued at about $14.2 billion and represents 11.2% of the total coins in circulation.
ETH tokens are still burning
According to the tracker Ultrasound Money, a total of 2.5 million ETH, worth $2.6 million, has been burned since the launch of EIP-1559 in early August 2021. Burning rates are currently low due to low demand for cryptocurrencies, which has driven the average gas price down to around $3.
At the time of writing, Ethereum is trading at $1,053 after falling 0.4% in the last 24 hours. Over the past month, the asset has fallen in price by as much as 40.7%, and is now down by 78.4% from the November 2021 all-time high.
However, there could be more trouble ahead as ETH's drawdown in the previous bear market was closer to 93% and several analysts are predicting another outflow of funds from the asset.
Stay in touch! Subscribe to World Stock Market at Telegram.


Source: Cryptocurrency