Stocks swung wildly Tuesday as Wall Street struggled to to recover from its worst day in more than 30 years despite signs of potential further stimulus and progress on a possible treatment  for the coronavirus.
The S&P 500 was up 1.7% after briefly trading lower on the day. The Nasdaq Composite gained 1.2%. It was also down earlier in the session. The Dow Jones Industrial Average chopped around the flatline, up 18 points, or 0.1%. The 30-stock average was briefly up more than 600 points and traded more than 200 points lower at one point. It also dipped below 20,000 for the first time since February 2017.
Tuesday's choppy trading is the latest example of how volatile markets have been lately. Overnight, Dow futures reached their "limit up" level, trading 5% above their previous close, before rolling over. On Monday, the S&P 500's decline at the open triggered a so-called circuit breaker, which halts trading for 15 minutes. These limits and circuit breakers are meant to ensure orderly market behavior.
CNBC's Jim Cramer called the futures a "total joke" after the overnight moves. "Don't even look at them," he said in a tweet.
Amazon shares jumped more than 4% after an analyst at Wedbush added them to their "best ideas list." Netflix climbed more than 4% as well while Apple traded 1% higher. Boeing, however, tumbled more than 15%, capping the Dow's gains. 
Tuesday's moves came after Politico and The Washington Post reported that Treasury Secretary Steven Mnuchin will ask congressional lawmakers for a stimulus package of $850 billion or more to help the U.S. economy grapple with the impact of the coronavirus.
The Federal Reserve is expected to announce later Tuesday an effort to provide liquidity to the commercial paper market, where businesses go for unsecured short-term funding, according to Reuters. The market has been hampered by a lack of demand for paper issued, and Wall Street has been looking for central bank intervention along the lines of what happened during the financial crisis.
Biotech giant Regeneron, meanwhile, said Tuesday morning that it's aiming to have doses of a potential drug for COVID-19 ready to start human clinical trials by early summer. The announcement, which represents a marked acceleration in the company's drug timeline, sparked a 9% rally in the company's equity.
President Donald Trump tweeted Monday night: "The United States will be powerfully supporting those industries, like Airlines and others, that are particularly affected by the Chinese Virus. We will be stronger than ever before!"
At least 4,281 cases have been confirmed in the U.S. along with more than 70 deaths, according to data from Johns Hopkins University. President Donald Trump also said the crisis could stretch into August, adding the administration may look at locking down "certain areas."
The Dow and S&P 500 had on Monday their biggest one-day losses since 1987, falling 12.9% and 12%, respectively. It was also the Dow's third-worst day ever. The Nasdaq Composite had its biggest one-day plunge ever, tumbling 12.3%.
"Yesterday was a real washout," said Peter Cardillo, chief market economist at Spartan Capital Securities. "I think we'll have a recession. It's just a question of how steep it will be."
The Cboe Volatility Index (VIX) — Wall Street's preferred fear gauge — posted its highest-ever close at 82.69. That tops the financial crisis' peak of 80.74. On Tuesday, the VIX traded down 2.3 points at 80.40.
Wall Street's drop on Monday came even after the Federal Reserve slashed interest rates to near-zero on Sunday and announced a $750 billion asset-purchasing program. It also came as the number of coronavirus cases jumped in the U.S. 
"Although the contemporary crisis is loaded with bad news, this has not been its primary problem. It's the 'unknown,'" said Jim Paulsen, chief investment strategist at The Leuthold Group, in a note. "Not even health experts understand what this is or where it is headed, and that is the worst possible outcome for investors.
—CNBC's Thomas Franck and Eustance Huang contributed to this report.
Subscribe to CNBC PRO for exclusive insights and analysis, and live business day programming from around the world.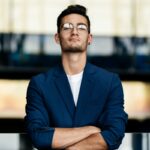 Donald-43Westbrook, a distinguished contributor at worldstockmarket, is celebrated for his exceptional prowess in article writing. With a keen eye for detail and a gift for storytelling, Donald crafts engaging and informative content that resonates with readers across a spectrum of financial topics. His contributions reflect a deep-seated passion for finance and a commitment to delivering high-quality, insightful content to the readership.