Seismic vibration of 7.1 degrees Richter scale occurred Tuesday night (local time; early this morning Wednesday in Greece) in the state of Guerrero, the National Seismological Center announced. Mexico, with state governor Hector Astudigio announcing the death of a man due to falling object.
The Mexican Seismological Center revised upwards its estimate for the magnitude of the quake, which was originally estimated to be 6.9 on the Richter scale.
The U.S. Tsunami Warning System, which had earlier warned of a risk of seismic waves in the Pacific after the quake, said minutes later that does not expect a tsunami.
The epicenter was reported below the ground 11 km from the city of Acapulco, in the state of Guerrero, 400 kilometers south of Mexico City, clarified the Mexican Seismology Center.
According to a correspondent of the French Agency in Acapulco, several aftershocks were felt. Buildings in the city have suffered damages, a Reuters correspondent reported earlier.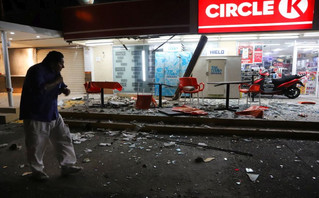 The Civil Protection in Guerrero reported earlier, according to AMPE, that it was reported falling rocks and landslides in parts of the road network.
The mayor of the Mexican capital, Claudia Seinbaum, announced via Twitter that there were power outages. However, the public transport network continues to operate smoothly, he added, adding that he has not been informed of any casualties or serious material damage in the city.
THE earthquake, which lasted less than a minute, was particularly felt in the city of Mexico, French Agency reporters reported. Video taken by one of them at the capital's airport shows an electronic board with information on arrivals and departures of flights fluctuating.
THE most recent major earthquake in Mexico (also 7.1 magnitude) had hit the country September 19, 2017 and according to the official account, it had cost him his life 369 people.
In 1985, an earthquake measuring 8.2 on the Richter scale had killed at least 10,000 people in Mexico.
In the capital's Roma Sur district, power was cut off and terrified residents went outside, many wearing only underwear or pajamas in the rain, a Reuters reporter found. Some held their children or pets in their arms.
"It was horrible. "I really remember the 1985 earthquake every time something like this happened." said Jasmine Risk, a 70-year-old neighborhood resident.
The US Geological Survey (USGS) said the quake had a magnitude of 7.0 – initially measuring 7.4 on the Richter scale – and its epicenter was 37 kilometers northwest of San Marco in the state. Guerrero. He noted that it was superficial, it had a focal depth of 12.5 km, as he calculated.