Two years ago, Subaru launched a project to create the latest electric hypercar STI E-RA (Electric-Record Attempt), during which the manufacturer planned to develop the direction of electric technology in motorsport. And now the brand has brought the hypercar to the Tokyo Auto Show to showcase the technology of the future to journalists and fast vehicle fans. It should be noted right away that this is not a production model, which absolutely everyone will have access to, but exclusively a racing car for the track – the hypercar will not drive on public roads.
Moreover, although the creation of a sports coupe was launched two years ago, the manufacturer still has not finished it – at the moment, the STI E-RA hypercar is presented in an unfinished form. For example, the car is shown at the exhibition without a two-seater cab, since it has not yet been finalized, although the power plant is probably already one hundred percent ready. The manufacturer itself claims that the STI E-RA was equipped with four Yamaha electric motors at once, which are installed one on each wheel of the vehicle, and their total power is 1,088 horsepower.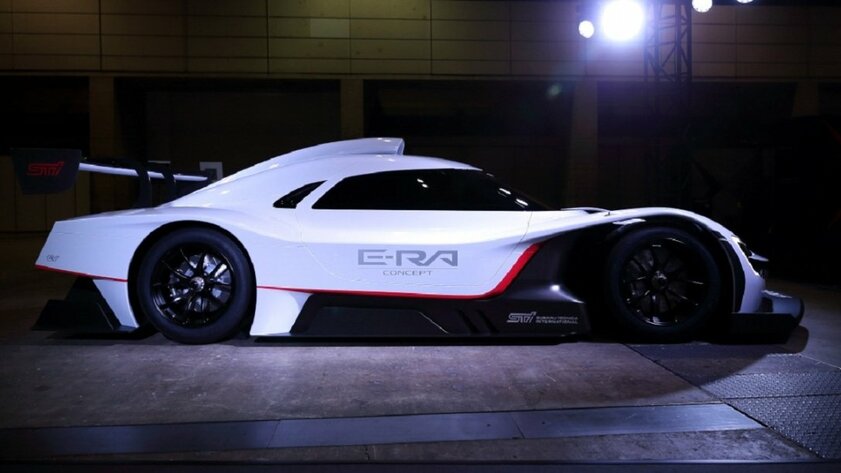 But, unfortunately, so far Subaru cannot boast of any records – the company does not report the dynamic characteristics, having named only the target time for passing the Nurburgring. If the predictions of the engineers come true, the STI E-RA electric car will pass the popular track in 6 minutes and 40 seconds, which, however, cannot be called a record – there are many cars in the world that pass the track faster. The creators of the hypercar will be able to find out the exact data only in 2023, when the car will be completely finalized and sent to a real racing track – now all the numbers are named only hypothetically.