From the co-founder and former head of OnePlus, Carl Pei, Nothing has relied on unusualness and transparency from the very beginning. The new Nothing Ear (Stick) earphones do not change traditions, they look completely unusual, and the transparent case in the shape of a lipstick makes you think that the novelty is aimed primarily at women. However, this is a subjective perception – what Nothing Ear (Stick) actually is, we find out in this review.
Specifications
Speaker: 12.6 mm.
Supported codecs: AAC and SBC.
Headphone weight: 4.4 grams.
Declared autonomy: up to 29 hours of listening to music, taking into account the use of the case and up to 7 hours without it, up to 3 hours of talk time.
Protection against ingress of dust and water: IP54.
Fast pairing technologies: Google Fast Pair, Microsoft Fast Pair.
Design and operation
Nothing Ear (Stick) are two 4.4-gram earphones that fit snugly into the ear canal. If we ignore the headphones themselves, then their unusual charging case, which can be opened and closed, is taken into account, and many will easily mistake it for lipstick. The IP54 certification provides basic protection against water and has been. Luckily, Nothing relies on pinch gestures to control the earbuds to provide more precise control in the rain.
What did you like
Unconventional design.
Tapping gestures are precise and not prone to erroneous inputs.
Comfortable to wear due to its light weight.
What did not like
Landing is not customizable.
According to the manufacturer, the goal of creating Nothing Ear (Stick) was to bring back the "pleasure of technology." The brand's first headphones debuted as a fidget spinner, allowing you to spin the charging case between your fingers to pass the time. The continuation of this idea has led to the appearance of a charging case, which must be rotated to remove the headphones.
Nothing has released an elongated charging case that looks a bit like lipstick. To meet expectations, the manufacturer dressed the headphones in packaging that resembles perfume or, again, lipstick. The concept works, and unboxing is more fun than most other Bluetooth headphones, even with the flimsy tearing band.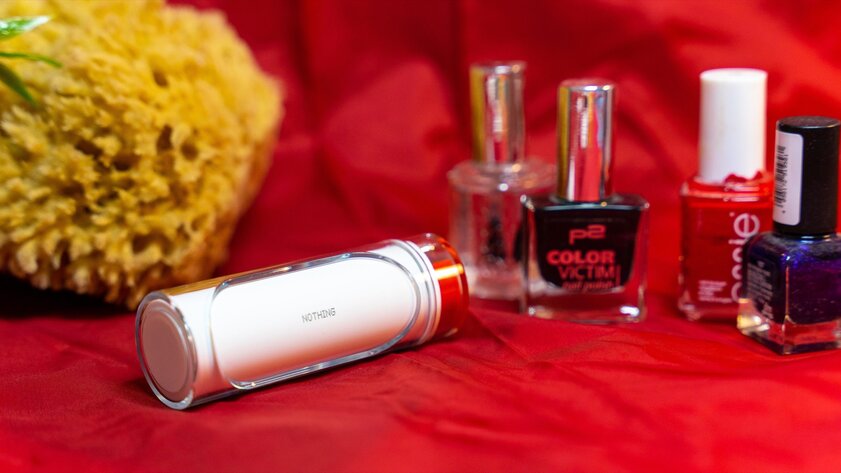 But let's not be blinded by the marketing ploy of using a spinning mechanism to create the effect of something incredible. The charging case is balanced so that it does not roll off the table, and the rotating mechanism has low enough resistance to operate it with one hand. The main advantage over the usual models is that the headphones do not fall out of the case when dropped.
The headphones themselves follow the design of the Nothing Ear (1) with a transparent outer casing through which you can see the internal circuitry in all its glory. However, unlike Ear (1), these headphones do not come with silicone tips. Thus, the ultra-light (4.4 grams) earbuds are placed in the ears with two plastic handles and quickly forgotten as there is no negative pressure.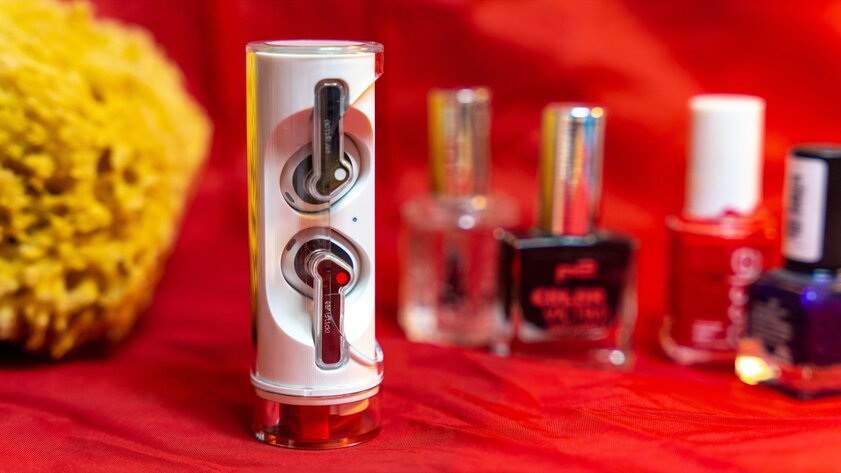 However, this design has two drawbacks. For example, you can't adjust the size of the earbuds, which means it's better to have small rather than large ear canals. Since the Nothing Ear (Stick) is quite sensitive to sound changes when slipped off, you will need to adjust the position of the headphones more often in daily use.
In addition, there is a more annoying drawback – external noises penetrate the inside of the ear quite easily. Therefore, without active noise cancellation, headphones are not suitable for use in noisy environments.
However, we already know that Nothing does very well (and, surprise, the OnePlus Buds Pro) – you have to squeeze the legs of the headphones to control music playback. The pressure points are sensitive enough that Nothing has managed to avoid the curse of mistyping. You don't pause your music when you move your headphones, and rain doesn't cause unwanted input.
Features and Companion App
Nothing Ear (Stick) is equipped with a wear detection function. However, you will have to do without the Bluetooth multipoint connection. You can download the Nothing app for iOS and Android, but if you have a Nothing Phone (1) you won't need it.
What did you like
Headphone ID.
Nice companion app.
What did not like
No Bluetooth multipoint connection.
Few useful features.
To briefly describe the convenient features of the new headphones, then: there is a wearing recognition option, and (Stick) automatically switches to mono mode when you wear only one of the headphones, and the second remains in the charging cradle. Another positive aspect is the companion app, which looks very nice on iOS.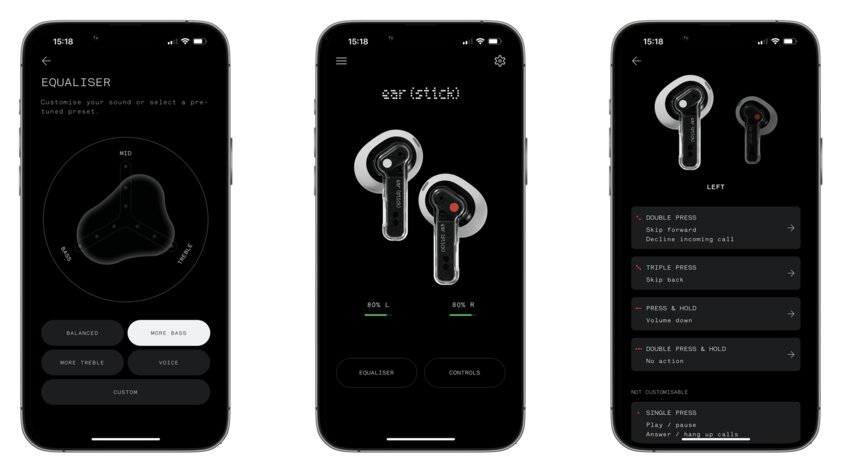 Compared to modern in-ear headphones, there is no Bluetooth multipoint support. So you can't connect multiple devices at the same time, and you can't switch between multiple devices on the app either.
Sound
The Nothing Ear (Stick) headphones are equipped with 12.6mm drivers. According to the manufacturer, this dynamic driver is one of the most sensitive on the market. Nothing provides information about frequency range or output power. Also missing is Active Noise Cancellation (ANC), a feature that Nothing Ear (1) caused a stir with at just $99.
What did you like
Customizable sound thanks to the equalizer.
High maximum volume.
What did not like
The sound is generally too flat.
The sound is highly dependent on the fit of the headphones.
No support for HD codecs.
No ANC.
The Nothing Ear (Stick) fall short of the first model from Nothing as they don't feature ANC and don't even offer passive noise cancellation due to their design. Thus, while enjoying your favorite musical compositions, your ears will easily pick up external noises. In this day and age, when even $50 in-ear headphones are equipped with active noise cancellation, this is an unusual omission.
It is also noticeable that Nothing does not support Bluetooth HD codecs. Instead of AptX or LDAC, there are only AAC and SBC, which in return get a low latency mode that is automatically enabled in mobile games. While codec latency issues are thus neutralized, other technical shortcomings remain untouched.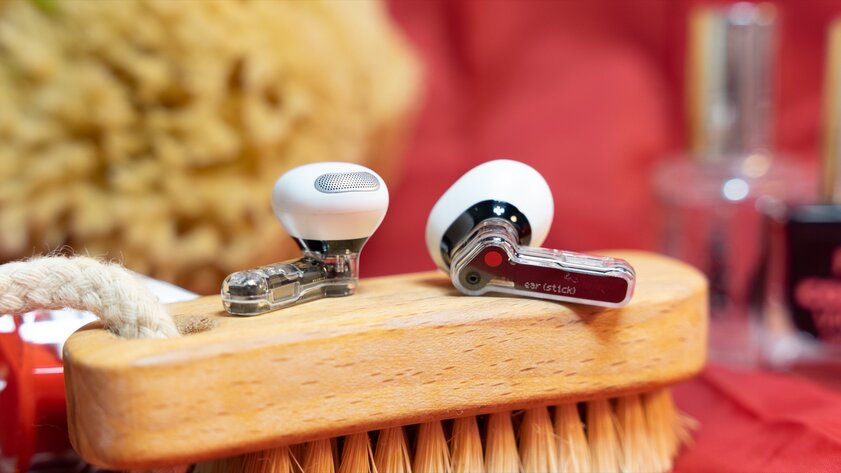 Nothing Ear (Stick) sound muffled and sluggish even after adjusting the built-in three-channel equalizer. The speakers used tend to over-emphasize high frequencies and are hardly interesting to listen to during bass-heavy songs. The situation does not improve even with the bass boost in the equalizer. Although the sound changes noticeably (the equalizer does have an effect), the low frequencies are lost due to the open headphone design.
However, since Nothing does not support HD codecs, the highs are also quite mediocre to enjoy with more complex songs. For example, the legendary Steely Dan mix sounds compressed in Nothing Ear (Stick) and cannot really reveal the entire frequency range. There are better models in this price range.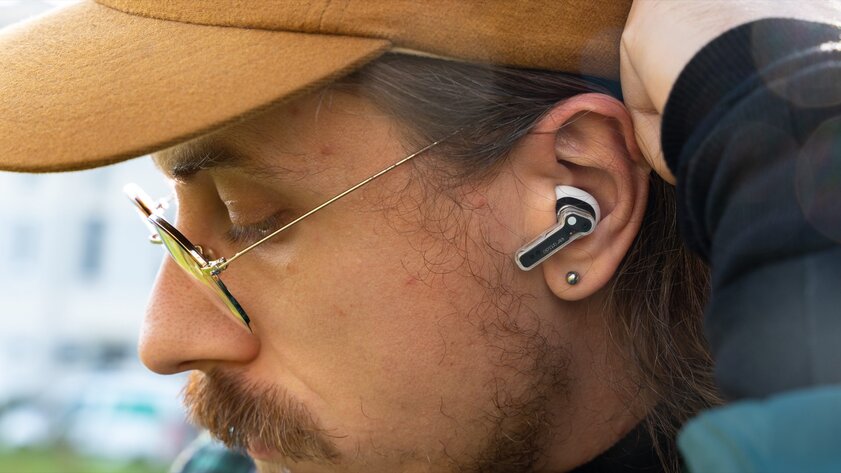 It is also worth paying attention to the fact that if you have problems with the sound of Nothing Ear (Stick), the problem may lie in the location of the headphones in the ear. For example, if they are a little overwhelmed, then most of the volume is lost. You will probably encounter this a lot, since the headphones cannot be fitted to your ears (there are no ear pads).
What's compelling about Nothing Ear (Stick) is the call quality. The manufacturer optimizes it with three microphones and effective noise cancellation. During a telephone conversation, the interlocutor did not hear any difference between the microphones in the iPhone 14 and Nothing Ear (Stick).
Battery
When it comes to battery life, it should be briefly recalled that Nothing Ear (Stick) weighs only 4.4 grams. 7 hours of music playback and 22 hours with the charging case is very solid. However, there is a catch: the frilly design of the charging case deprives the earbuds of wireless charging, which is a pity.
What did you like
What did not like
After several days of continuous use, I can in good conscience confirm the manufacturer's claims about battery life. At medium volume, Nothing Ear (Stick) worked for seven hours in a row. Because there's no ANC, you won't have to remember different times with and without noise cancellation.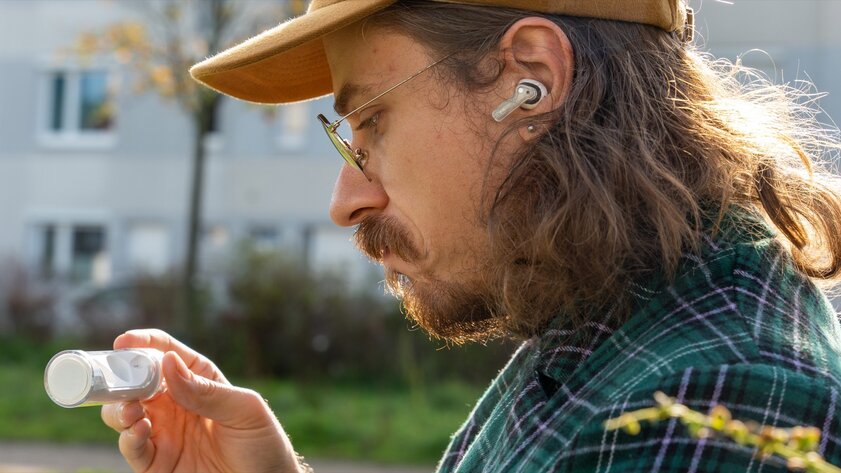 However, which is noticeable compared to Ear (1): Nothing, the novelty does not support wireless charging. This is understandable, since the unconventional shape of the charging case makes it almost impossible to place a Qi coil. For charging, only the USB-C port is available, which is located in the red block on the side of the case. A USB-C to USB-C cable is included in the box.
Review
The new Nothing headphones offer an unconventional concept and a really attractive design for both the headphones themselves and the charging case. Not so far-fetched that Nothing presented them as a fashion device. It's nice to note that in everyday use, Nothing's unconventional design has more advantages than disadvantages.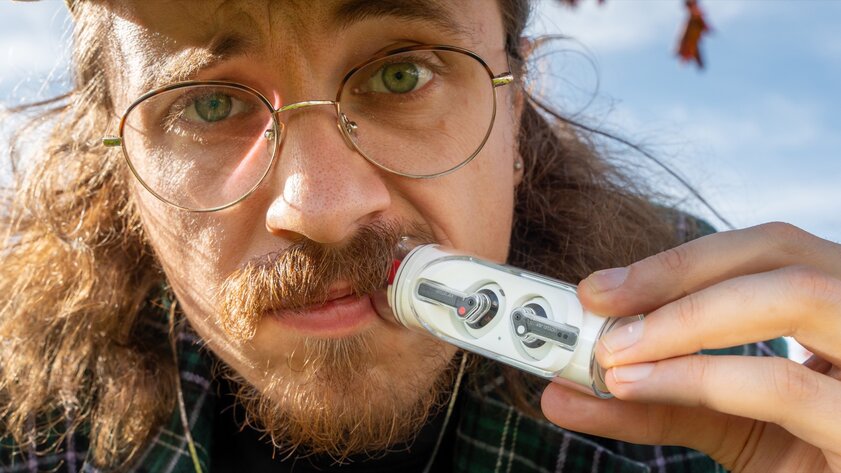 What did you like
Amazing design, easy to use.
Very light and do not create discomfort in the ears.
IP54 certified against dust and water.
Solid battery life.
What did not like
Lack of active noise cancellation.
The sound quality is unsatisfactory.
Lack of Bluetooth multipoint connectivity.
Lack of any useful features.
Lack of wireless charging.
Although Nothing Ear (Stick) is visually good, the manufacturer has made too many technical sacrifices. In terms of sound, the semi-open design without any options to adapt to the wearer's ears is a potential cause for concern. At the same time, there is no support for HD codecs, and the sound of 12.6 mm speakers is rather mediocre.
Also, the Ear (Stick) lacks convenient features, primarily ANC and wireless charging. The latter isn't much of an issue thanks to a solid seven-hour battery life, but it's still lacking compared to other models – most notably its sister model Nothing Ear (1).
This is a translation of the NextPIT review.
Source: Trash Box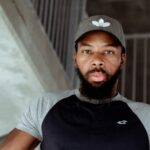 I am a journalist and author who has been working in the news industry for over 8 years. I have written for a number of different news websites, including worldstockmarket.com and many others. I also write books about finance and investment.