- Article Top Advertisement -
The sighting of carnivorous flies, of the species Thyreophora cynophilahas set off alarms in southern France, as they were believed to be extinct since 1836.
The resurgence of the so-called bearded vulture flies was registered in Spain in 2009. However, the numbers registered in the Pyrenees National Park, in France, exceed what has been seen before.
- Article Inline Advertisement 1-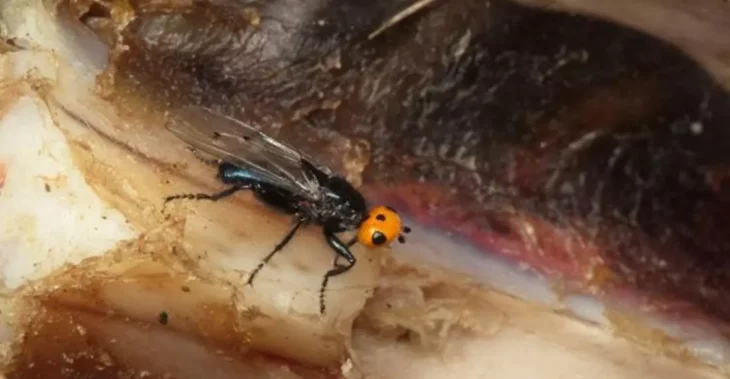 According to a statement from the Pyrenees National Park, during a surveillance in the Ossau Valley last February, a ranger observed flies on the remains of a wild boar that were found on the snow at an altitude of 1,700 meters above sea level. sea. The exaggerated number of insects caught his attention and as he got closer, he realized that they were carnivorous flies.
These were believed to be extinct since 1836 and were even part of the list of extinct species of the International Union for Conservation of Nature (IUCN) until 2009, when they were seen in towns in Spain. In addition, since 2018, the entomologist Laurent Pelozuelo, from the Paul Sabatier University of Toulouse, has been investigating its reappearance in France, right in the Pyrenees.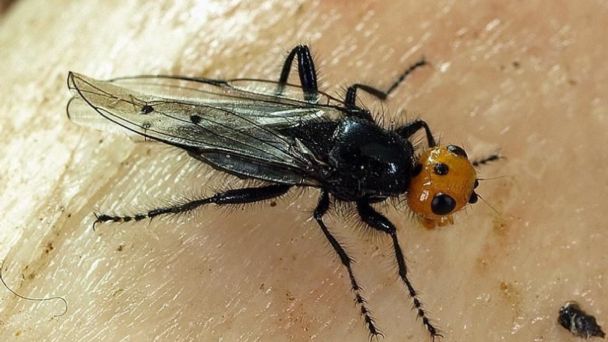 The Thyreophora cynophila It was first described by Georg Wolfgang Franz Panzer in 1798, under the name of Musca cynophila.
This species is almost 10 millimeters long, its head is bright orange, its body metallic blue, and its wings have black spots. It used to live in countries such as Germany, France and Austria and it is believed that the cause of its extinction was the change in livestock management that caused the scarcity of carcasses.
The flies of this species are most active in winter, when their larvae feed on the remains of animals that decompose in the snow, mostly large mammals. Experts believe that the coming winters that hit Europe could increase the numbers of the species, causing notable changes in the environment and in the animal food chain.
Source: Okchicas
- Article Bottom Advertisement -