Microsoft released the stable version of the Windows 11 operating system a month ago on October 5th. Since then, users have continued to stumble upon a variety of crashes, flaws and problems.
This time, the news spread over the network that Windows 11 allows you to "charge" the laptop by more than 100%. Of course, this is only a software glitch, not Microsoft's discovery of a source of limitless energy.
Initially, the topic edition PC Gamer drew a message from a Reddit user under the nickname Zondax. Zondax noticed that his laptop showed the message "Battery status: fully charged at 103%" when hovering over the battery icon, and after a couple of hours Windows 11 reported the new altitude taken – 104%.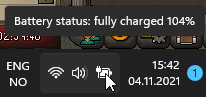 Judging by the published screenshot, the Zondax laptop was connected to the mains for charging, while the user himself was playing the game Old School Runescape. However, the brand and model of the laptop has not been specified.
In the thread on Reddit, users are, of course, delighted and pouring jokes about the discovery of a source of unlimited energy, violation of the laws of thermodynamics in order to put Apple fans in place, and that Tesla has already left to get a license.
.