Shock and disgust prevails in Thailand after the horrific attack that took place yesterday in kindergarten, with tragic death toll of 37with the majority of the victims to be small children up to 3 years old.
In the district of Nha Klang ebitter silence surrounds the nursery, which is interrupted by the sobs of the children's families and the arrivals of officials. A red carpet has been laid out so relatives can mourn and leave flowers at the scene of the attack.
Buarai Thanodong lost his two grandchildren aged three. "I can not sleepI couldn't imagine that something like this could happen to my grandchildren," he said, with his devastated daughter and mother of the children by his side.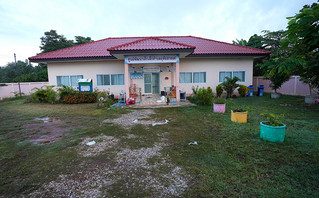 'Horrible' massacre – 'There was blood everywhere'
"There was blood everywhere" on the road, said an eyewitness who was passing by on her motorcycle and saw the perpetrator "trying to run over people".
During the night small coffins, white and purple, they were taken to the mortuary of Udon Thani Hospital in the neighboring province.
After the "horrific" massacre, Prayuth Chan-o-cha asked for an investigation into the incident and for the police chief to "accelerate investigations".
The first elements describe him perpetrator as a 34-year-old man with drug addiction problems and who in June was dismissed by the police.
"We expected him to appear on Friday (today) for trial for his drug problem," said Thailand's national police chief, Damrongsak Kikiprapat.
"What happened today will be a lesson so that something similar does not happen again in the future," he underlined.
"I have been deeply saddened by the horrific massacre at a Thai daycare center. These places should be places where children are safe and never targeted," UN Secretary-General Antonio Guterres tweeted.
As reported by APE-MPE, This is not the first time that Thailand has been plunged into mourning due to a similar tragedy. In February 2020, an army officer killed 29 people, mostly in a shopping mall. The 31-year-old assailant had fallen dead from the fire of the security forces, after 17 hours. The reason for the massacre was a quarrel between him and his superior.
The tragedy in Nha Klang highlights the extent of the drug-related problems in Thailand, where drug prices have fallen to record lows due to high supply, according to UN figures for 2021.
Nong Bua Lubu province is located near the "golden triangle", on the border between Thailand, Myanmar and Laos, which for decades has been considered the main point of drug production in the region.

Source: News Beast