There are billionaires who dream of space travel – having already bought the coveted and very expensive ticket that will provide them with this unique experience – but there are also billionaires who have a different outlook on life, turning their attention to the planet Earth.
Among the latter is Marc Lore, a former Walmart CEO, who announced plans to build a new $ 500 billion futuristic city in the American desert.
Telosa: The highest purpose
Its name is Telosa, according to the Architectural Digest, which is due to the Greek word end – "higher purpose", could potentially accommodate up to five million inhabitants in a 30-year plan, and will include self-propelled cars and energy-efficient skyscrapers.
In January 2021, Lore had initially announced his plans to step down as CEO of the successful e-commerce company Walmart in order to focus on creating "the city of the future". "This will be a lifelong project," the 50-year-old businessman told Recode at the time. "It's the thing that interests me most."
A few days ago, Lore shared more details, telling Fortune that he was trying to "create a new model for society, where wealth is created in a fair way." He has even devised a "reformed version of capitalism" for Telosa, which he also calls "equity", where anyone can build and sell houses, but the city retains ownership of the land below.
"Imagine a city with the vibrancy, diversity and culture of New York combined with the efficiency, security and innovation of Tokyo and the sustainability, governance and social services of Sweden," the vision statement for Telosa said. . "This will be our New City."
The plans for the first phase of its development city is to house 50,000 inhabitants on 1,500 acres, which is expected to be completed by 2030. This dream metropolis will be designed by the BIG architectural firm, headed by Bjarke Ingels, which will include hotels, luxury spas, stadiums, public art and many more, while Ingels has even designed the headquarters for Apple and Google in the utopian city.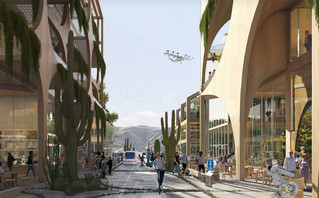 Rich in native planting, the parks The city hosts carefully managed reservoirs that store water for the city and provide all residents with open space within minutes of where they live, according to the Architectural Digest.
The focus of Telosa, however, will be the Equitism Tower, a funnel-shaped skyscraper described as a "lighthouse for the city", with increased space for water storage, farms and a photovoltaic roof that produces energy. Exactly where this 21st century Eden will be located has not yet been determined.