The word "deficiencies" has been circulating in the British media for the past few months. As Deutsche Welle writes, almost every week another industry complains about shortages of goods or staff. And it is not just the global economic downturn as a result of pandemic disruptions in the supply chain. THE Britain also addresses the effects of Brexit. Some indicative areas:
Truck Drivers
There is talk of a shortage of around 100,000 drivers in Britain. As a result, the supply of gas stations and supermarkets is lagging behind. Many drivers from EU member states returned to their home countries during the lockout and now, due to Brexit, face many, mainly bureaucratic, difficulties in returning to work in the UK.
Fresh fruits and vegetables
Fruits and vegetables can not be stored for a long time. And because many of them come from mainland Europe, there are often shortages in supermarkets. For this reason, some large chains, in order to avoid completely empty shelves, place cartons with photos of products in which there is a shortage.
THEbus drivers

Logistics companies are desperately looking for drivers and wages have skyrocketed. This development mainly affects British public transport, with bus drivers switching to much better paid industries. The British Passenger Transport Federation speaks of a shortage of 4,000 drivers, but also the forced abolition of routes.
Porters
British clubs have been left without staff for physical and visual control.
During the pandemic, many nightclubs closed and porters looked for work elsewhere. According to the industry, until last month, one in five clubs or restaurants in the country remained closed due to lack of staff.
Butchers
The British love pork. However, fewer and fewer intend to work as slaughterers. So British breeders recently warned that around 120,000 healthy livestock could be slaughtered and thrown away if the situation does not escalate. Authorities say they have up to 800 visas for those interested from abroad by the end of the year.
Paramedical staff
"We now have to turn down requests from patients with spinal problems," said Peter Henry of Origin, which provides medical care to those in need at home. Experts in the field say that it will be difficult for Britain to fill the gap left by workers leaving mainland Europe with locals.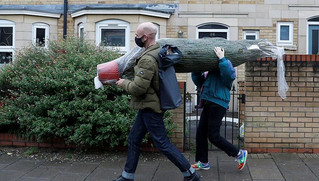 Christmas firs
According to Mark Ruff from ChristmasTrees.co.uk, buying a tree this Christmas will not be so easy. This is due to the tense situation in the labor market, but also the skyrocketing cost of raw materials, such as wood for pallets or fertilizers. At the same time, the demand for British firs is increasing, as the cost of importing trees from mainland Europe is on the rise due to Brexit due to bureaucracy, but also the imposition of tariffs.