Their daughter Mia was only three years old when the couple Edith Lemay and Sebastien Pelletier from Canada noticed for the first time that he had vision problems. A few years after they first took her to a specialist, Mia, the oldest of their four children, was diagnosed with retinitis pigmentosa, a rare genetic condition that causes vision loss or decline over time.
According to the National Eye Institute, a division of the US National Institutes of Health, an agency of the US Department of Health and Human Services, symptoms of retinitis pigmentosa usually begin in childhood, and most people eventually lose most of their vision.
By then, Lemay and Pelletier, who have been married for 12 years, had noticed that two of their sonsColin, now seven years old, and Laurent, now five years old, had the same symptoms.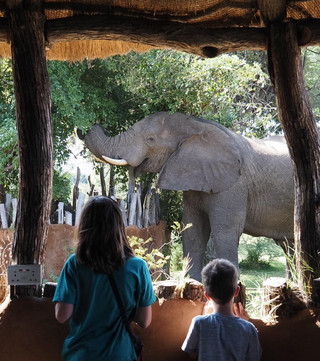 Lemay and Pelletier admit that the diagnosis of the disease always remains in the back of their mindbut they focus on living in the moment and "putting their energy into positive things."
"We never know when it might start or how fast it might go," adds Pelletier. "So we really want to take advantage of this time as a family and take care of each of our children so we can live this experience to the fullest."
Although the family plans to return to Quebecto Canada, next March, say they try not to think too far ahead. In fact, the ability to live in the moment is one of the key things the family has learned in recent months.
"This trip has opened our eyes to a lot of other things and we really want to enjoy what we have and the people around us," says Pelletier.
"If that can continue when we get back, even in our daily lives, it will be a really good achievement."
Although traveling as a family has been a challenge—the couple is also homeschooling their children during the trip—Lemay and Pelletier say that one of the best moments was watching the bond between their children grow stronger.
"They're great together," she adds. "Beyond that, I think it helps cement that bond between them. And I hope that this will continue in the future so that they can support each other."
Pelletier emphasizes that remain optimistic that Mia, Colin and Laurent may never go blind. But for now, doing everything they can to ensure that they can cope with whatever the future holds.
"Hopefully, science will find a solution," says Pelletier. "We're crossing our fingers for that. But we know it can happen, so we want to make sure our kids are equipped to face those challenges."
Source: News Beast