Jeff Bezos, CEO of Amazon, will go into space with fellow members of the New Shepard spacecraft created by his space company Blue Origin today.
Together with 57-year-old Jeff, his younger brother, Mark Bezos, will fly. The team also included 18-year-old student Oliver Daemen and 82-year-old Wally Funk of the Mercury 13 female astronaut training program.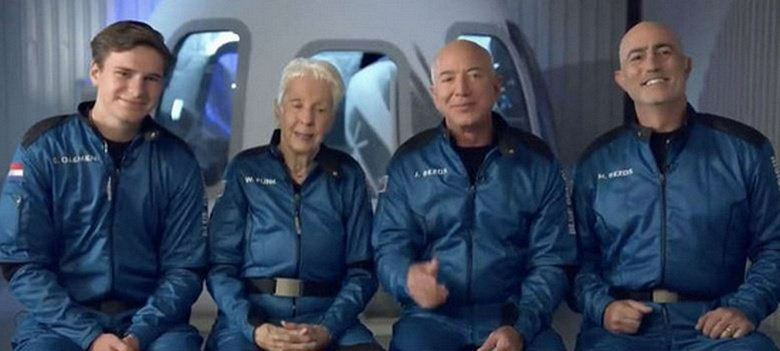 During the launch, three records should be recorded at once: the youngest and oldest astronauts, as well as the richest man on the planet, should visit space. Until now, the Soviet cosmonaut German Titov is considered the youngest man in space. She was in space at the age of 25, this record has been held for almost half a century. The fattest at the age of 77 was NASA astronaut John Glenn, who flew Discovery in 1998.
The New Shepard ship consists of a single-stage reusable rocket and a 15 m3 passenger capsule3, which is designed for 6 people. The rocket should rise to an altitude of 100-115 km, the flight will last about 15 minutes, after which the ship will land on three parachutes a few kilometers from the launch point.
Blue Origin will begin streaming at 14:30 Moscow time. The historic launch can be watched on YouTube.
More recently, space tourism company Virgin Galactic made its first successful flight on the Unity-22 spacecraft, having risen to an altitude of 86 km, in connection with which Blue Origin said it did not recognize this flight as a space flight.