Proponents of modern and minimal design, you will surely love the impressive house that appears in Airbnb surrounded by mirrors, appearing to emerge from the desert in which it is located. The "invisible" house, built in 2019, seems to be disappearing very strongly in the vast desert landscape in Joshua Tree National Park in southeastern California, where it is located.
Glass windows reflect the imposing landscape of the desert around the house
The property occupies an area of ​​90 acres, has its own mountain with a height of 1,200 meters and borders for about 1 km with the National Park. The architectural marvel of the Invisible House Designed by filmmaker Chris Hanley and Tomas Osinski, it was created without design limitations, incorporating the most advanced materials and technologies available.
All electric, this elegant, minimalist house of 5,500 sq.m. follows a 100% green operating philosophy, with zero environmental footprint. Multiple sliding doors from the floor to the ceiling increase the feeling of direct and uninterrupted connection with nature, while the desert is reflected everywhere around him in a real "optical illusion" of external and internal living. No wonder Invisible House is a favorite destination among artists, spiritual seekers and those longing to connect with nature.
What does the experience of staying in this unique house look like?
The impressive size of the Invisible House, however, is reflected in its bedrooms, but also the number of people it can accommodate. The 3 big luxuries suites can accommodate 6 people and features pure marble beds while the Master Suite, a unique solid two-tone glass bed, designed by Milan-based Santambrogiomilan.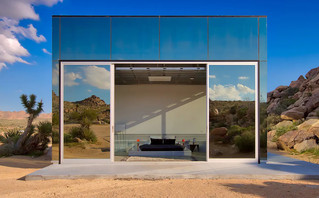 The sweeping view of the desert from one of the many modern living areas, the preparation of food in the open glittering white and marble kitchen, a dip in the huge indoor pool 30 meters long, the hiking on the private paths in the land of 90 acres, even the observation of the stars under the crystal clear night sky, compose the carousel of unique experiences-life that will live the (lucky) visitor who will spend the amount of 4,000 euros, approximately, for a night in the desert and in this amazing "invisible" home.