It is at least one particular phenomenon recorded exclusively in South Korea and includes men ejaculating on existing women.
They are usually called "sperm terrorists" by the country's media and, as they reveal, these men have terrorized thousands of women.
The problem has reached such proportions that South Korean lawmakers want to criminalize the disrespectful act, making it part of the law on sexual crimes…
The "sperm terrorists"
The South Korean political world is now openly discussing what exactly constitutes a sex crime, wanting to broaden the scope of the law.
The occasion is a series of high-profile incidents with men secretly ejaculating on or inside female objects.
Everyone calls them "sperm terrorists" – journalists, public figures and ordinary people, because that is exactly what they are doing. They terrorize women either by ejaculating on an object or by placing things that contain it semen them on them.
The phenomenon reached its most popular moment in May 2021, when a Seoul civil servant was sentenced to a hefty $ 2,500 fine for "property destruction." The man ejaculated 6 times in one semester in the cup of his colleague female coffee, from January 20 to July 14, 2020.
Sometimes the phenomenon becomes even more perverted, acquiring characteristics of sexual perversion. In 2019, for example, a graduate student was sentenced to 3 years in prison for contaminating a woman's coffee 54 times with a mixture of semen, saliva, laxatives and aphrodisiacs. And all this as revenge because she did not respond to his persistent flirtation.
Incidents with "sperm terrorists" have been playing out in the local media in recent years. One of the best known in the rest of the world and one of the first to reveal the extent of the problem took place in 2018, with the conviction of a man who placed a condom with his semen in a women's bag in her subway Seoul.
Strong political will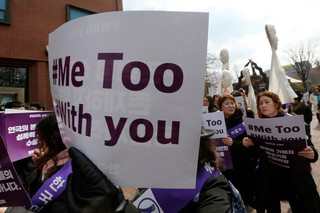 In July 2021, South Korean Democratic Party MP Baek Hye-ryun tabled an amendment in Parliament.
The former prosecutor explicitly calls for "sperm terrorism" to become a criminal offense, in the same way as other sexual crimes.
Speaking of the incident with his conviction civil servant Regarding the cup of coffee, Baek said that "the victim was sexually humiliated, but was not tried as a sexual offense because he was not considered to have had direct physical contact."
This is the problem for Baek, but also for part of the country's political world, that "sperm terrorism" does not involve physical contact, and so the law does not catch it.
"Accusing the perpetrator of 'destruction of property' is like his act being judged to have violated the usefulness of the cup."
The politician maintains in every direction that "sexual crimes must be judged from the point of view of the victim". And he's obviously right to say so, as South Korean courts have come under fire for punishing the act as property destruction. And not for what it is, a criminal sex crime.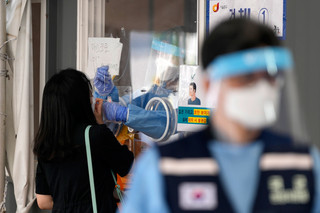 However, these particularly lenient court rulings for the "sperm terrorists" are now facing the new social morals that were born in the aftermath. of the global #MeToo movement.
Some people want to leave their semen on the other or on his personal belongings and in the end it is only the social reaction that will limit them. At least that's what South Korean activist organizations and women's movements say.
Denouncing the inadequate legal framework to condemn acts as purely sexual crimes. The police admit the same.
In 2019, a man who stained a woman's shoes with his semen ate a $ 435 fine. Police themselves said the case was treated, both investigatively and investigatively, as "property destruction", as there was no legal provision classifying it as a sex crime.
The same happened with the student who was sentenced to 3 years in prison for contaminating a woman's coffee 54 times with semen, saliva, laxatives and aphrodisiac. Although his semen was always present in his revenge acts, the crime was not recognized as sexual because it did not involve physical assault.
According to South Korea's penal code, the perpetrator must use violence or intimidation to be considered a crime of a sexual nature, such as abuse or rape. Of course, this does not mean that digital and online sex crimes are not criminal offenses, but they do fall under other provisions of the law.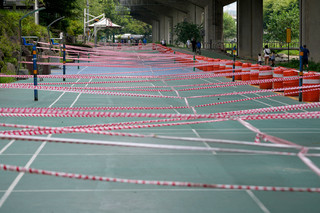 This is struggling to become part of the political world now, to extend the letter of the law to punish them as sex crimes even without physical contact. Anything that causes sexual shame, anything that offends sexual dignity, is a crime and even sexual, Baek typically repeats.
A similar legislative act was submitted to Parliament in December last year by Baek's colleague Lee Su-jin, proposing the extension of the definition of "inappropriate act". Both proposals will be discussed in plenary at some point.
A survey conducted by the Korean news site Women's News found that there are judges who have recognized and several times that what the "sperm terrorists" do are sexual crimes, even without physical contact between the perpetrator and the victim.
Even so, 53% of convictions for such crimes are soft-spoken, with fines or small prison sentences that are not deprivation of liberty.
Characteristic here is the fact that out of the last 44 cases of "sperm terrorism", 26 were treated as sexual harassment and 17 as property destruction. Which indicates that without a legal framework, the judiciary is free to translate as it sees fit.
"Every sexual crime is a crime," said Choi Won-jin, general secretary of the Korean Womenlink, believing that such acts should be considered hate crimes against women: "It is not an accidental act of street violence, but it targets a specific gender."
A change in morals against female violence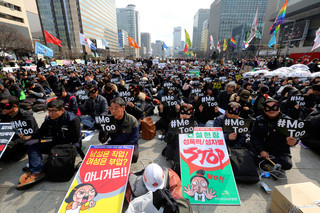 South Korea has experienced great adventures with sexual crimes against women in recent years and the way it deals with them is not always efficient.
The issue had taken the form of an epidemic, for example with the hidden cameras planted by men in women's locker rooms, hotel rooms and toilets, recording the personal moments of their victims.
These videos, pornographic material from a hidden camera that is ("Molka" they say), had unfortunately lived very long moments on the internet.
Of the 6,465 people who were dragged to police stations in 2019 for illegally recording such pornographic material, only 5,437 were arrested. And of these, according to the BBC, τελικά 119 were finally sentenced. Only 2%!
Even so, progress has been made in recent years. Possession of illegally recorded pornographic material is currently punishable by up to 3 years in prison.