The United States will not allow Chinese companies to significantly increase their presence in the market for contract manufacturing of semiconductor products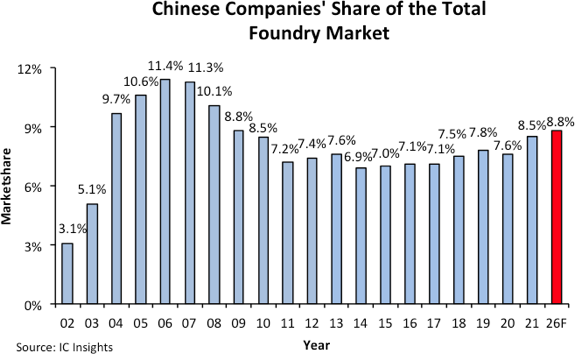 Experts of the analytical company IC Insights, who predict that this year the market for contract manufacturing of semiconductor products will grow by 20%, separately considered the situation with the placement of relevant industries and the prospects for Chinese companies.
Analysts estimate that nine of the top twelve enterprises in the industry in 2021 were located in the Asia-Pacific region. European-headquartered X-Fab Specialty Factory, Israel-based Tower (soon to be acquired by Intel), and US-headquartered GlobalFoundries are three companies from other regions in the top 12.
In 2020, SMIC's 25% increase in sales was not enough to prevent Chinese manufacturers' share of total contract manufacturing from falling to 7.6%. In 2021, SMIC sales grew by 39%. For comparison: the overall market growth was 26%. Moreover, Huahong Group's sales growth rate doubled that of the overall market last year, at 52%. As a result, the share of Chinese companies in the purely contract manufacturing market for semiconductor products increased from 7.6% in 2020 to 8.5% in 2021.
At the same time, IC Insights experts believe that until 2026 the total share of Chinese companies in this market will remain relatively unchanged. Although Chinese companies plan to take advantage of the huge amount of public and private investment pouring into the local microelectronics industry, it is unlikely that they will be able to compete with companies from other countries in terms of advanced technological processes. Under U.S. sanctions, Chinese manufacturers are forecast to account for only 8.8% of the semiconductor contract manufacturing market in 2026. The dynamics of their share, starting from 2002, is shown in the graph.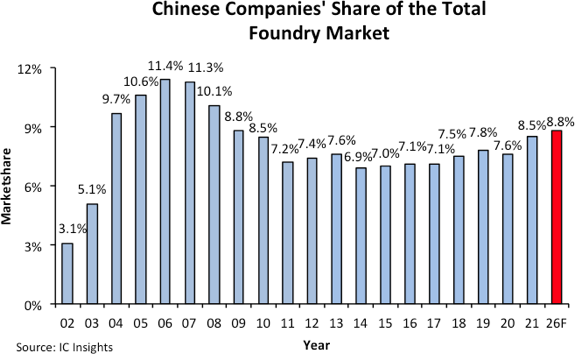 Source: ixbt