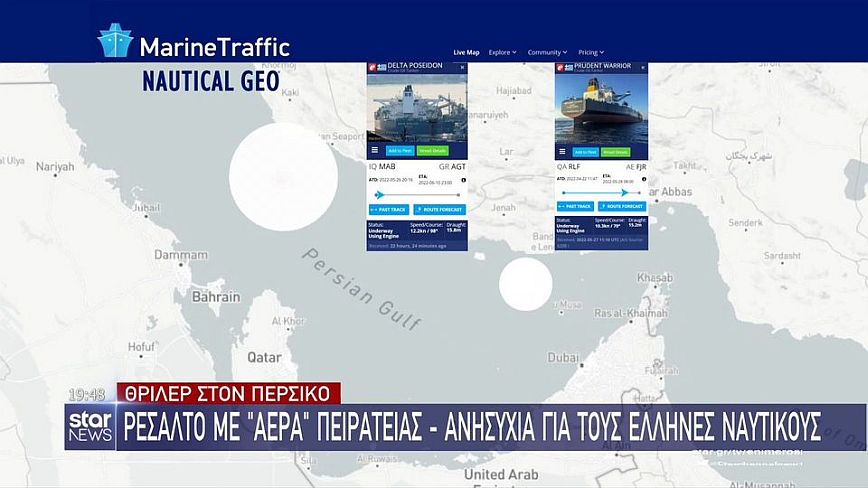 Iranian shipping authorities announced today that the crew of the two confiscated Greek tankers is not in custodybut is on board and in good health, the Iranian news agency Tasnim News reported and relayed Reuters
However, according to Star TV, at the time when the Iranian commandos set foot on the Greek ships, intense dialogues followed between the soldiers and the Greek sailors.
The images resembled an adventure movie but were absolutely true. The Iranian commandos marked the Greek sailors with their weapons and told them to stay still and hand over control of the ship.
The first impression of those on the ships was that they were dealing with pirates. But eventually they were revealed to be Iranian commandos. In fact, the so-called "Guards of the Revolution" of Iran, which is an independent body from the regular army.
The regular army is the deep state of the country and its members are among the toughest soldiers.
The following is the shocking dialogue between the Greek sailors and the Iranian commandos:
Iranians: Do not move. If you have weapons, hand them in now.
Crew: We are not armed. We are a merchant ship. What are you? When you press the laws.
Iranians: We are the law here. Gather everyone on the bridge and immobilize the ship. Hand over your mobile phones. Turn off the wireless.
We will be your only communication.
Crew: We have families. Do not hurt us. We are legal.
Iranians: You will not be harmed. As long as you do not create a problem. We are the army of Iran.
It should be noted that the ship Delta Poseidon departed from the port of Basra in Iraq bound for Greece. Twenty-two miles off the coast of Iran, an Iranian navy helicopter landed on the tanker and seven gunmen captured the crew. The Prudent Warrior that had started from the same port was approached by 2 speedboats and another 7 Iranian commandos stopped it.
Source: News Beast