Android developer Federico Matteoni published on his GitHub profile a ready-made Android port of Microsoft's 3D Pinball game, which first appeared on computers 27 years ago with the Windows 95 operating system. The ported arcade game is based on the original edition of Space Cadet (based on a Full Tilt pinball by Maxis Software) and uses the decompiled code of another community modder called Iscle.
The presented mobile version of 3D Pinball Space Cadet for Android retains the classic gameplay and is optimized for touch control of smartphones – you can either launch the ball by pressing a button with control of the launch force by holding it, or move the left and lower legs. Also, the player can set a nickname for himself, view the number of points scored and check for updates using the link leading to the project repository. All functions are available in the settings. The current version at the time of writing the news is 1.2 (4).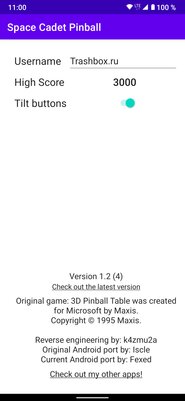 To the point: What do you remember about the old Windows. Feature of each version since Windows 95
Recall that Windows XP was the last generation of Windows, where 3D Pinball Space Cadet was supplied by default. Previously, enthusiasts who do not want to part with colorful pinball have implemented the game in the online space using an emulator. Other third-party ports exist today, including those for Windows 7, Windows 8, and Windows 10.
Source: Trash Box