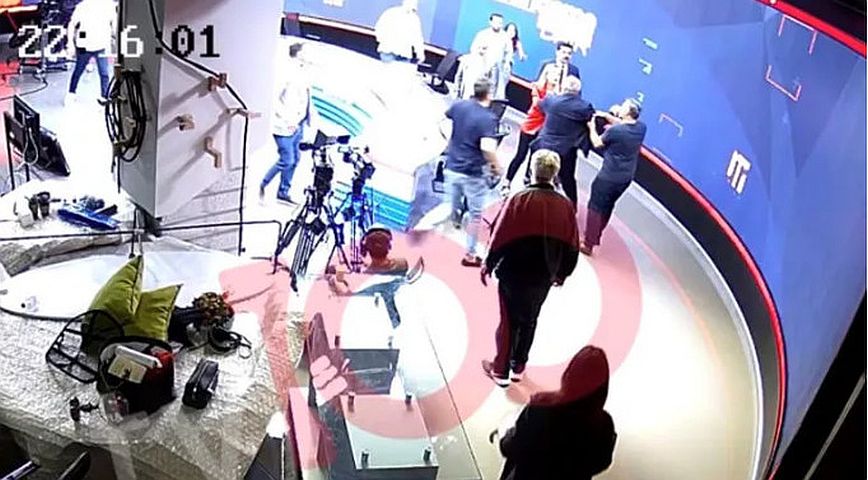 The studio of the TV100 show in Turkey turned into a ring on Saturday night, with a member of parliament participating in a debate and his bodyguard beating a journalist.
More specifically, blood flared in the studio when the discussion turned to the issue of the independence of the judiciary and the jailed Kurdish leader Selahettin Demirtas, as well as the pro-regime Osman Kavala.
"The police and the state belong to us," declared the MP and vice president of the Democratic Party, Kemal Enginhurt, and when journalist Latif Simsek told him not to say such things, the nationalist MP lashed out at him.
The broadcast was interrupted, however, the fight continued and evolved into the brutal beating of the journalist, not only by the MP, but also by his bodyguard who entered the studio and beat him severely, causing the journalist to faint.
After a twenty-minute break the show resumed without him, with the moderator and station management condemning the violence and apologizing.
The journalist filed a lawsuit against MP Kemal Enginhurt, who was a former Gray Wolves executive.
The prosecutor ordered the bodyguard to be remanded in custody, but not the MP, who is covered by immunity.
The Gray Wolves have split, with one section working with President Erdogan and the other allied with his Kemalist rivals.
The Democratic Party to which the member of parliament who took part in the incident in the previous election belongs was part of the alliance against Erdogan.
Source: News Beast