According to IDC analysts, global deliveries of "traditional" PCs, which IDC includes desktop PCs, laptops and workstations, in the first quarter of this year amounted to 80.5 million units. This is 5.1% less than what was shipped in the first quarter of 2021. The PC market declined in annual terms for the first time in two years.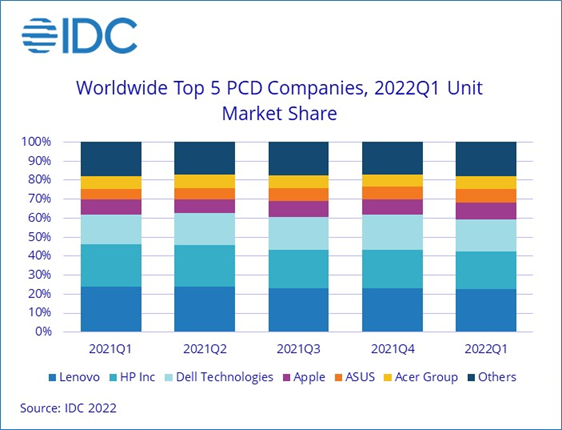 The market leader is Lenovo, whose share decreased from 23.7% to 22.7% over the year. During the quarter, the Chinese manufacturer shipped 18.3 million PCs, down 9.2% from a year ago. For comparison, HP, which ranks second, reduced shipments by 17.8%. As a result, the share of HP decreased from 22.7% to 19.7%.
In third place is Dell. It increased half-time by 6.1%, resulting in an increase in Dell's share from 15.3% to 17.1%. Apple is in fourth place. Having increased supplies by 4.3%, it was able to increase its share from 8.1% to 8.9%. Asus and Acer Group follow, occupying 6.9% and 6.8% of the market, respectively. A year ago, they owned 5.6% and 6.8%. The share of all other suppliers increased from 17.8% to 18.0% over the year.
Source: ixbt