Canonical has released a new version of Ubuntu 21.10, codenamed "Impish Indri", which translates as "Mischievous Indri". Indri is the largest lemur species found on the island of Madagascar. Ubuntu 21.10 is getting the standard nine months of support.
New installer
Mark Shuttleworth talked about his intention to create a new installer back in early 2018.
The Ubuntu Desktop Installer is written from scratch in Dart and uses the Flutter framework to create the interface. The backend is Subiquity, the Ubuntu Server installer.
GNOME 40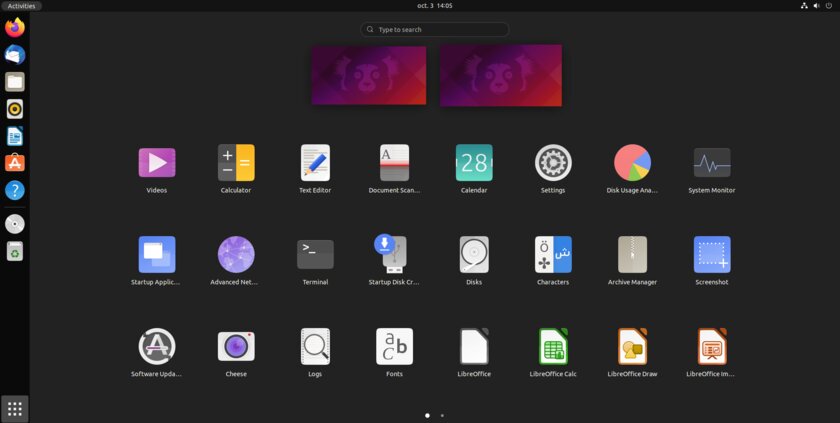 The previous version of Ubuntu 21.04 shipped with GNOME 3.38 due to problems with preinstalled extensions in GNOME 40. They were only solved by the release of Ubuntu 21.10.
GNOME 40 is a major update with a redesigned Overview screen that now scrolls horizontally through both spaces and the list of apps. Starting with it, the new version numbering scheme is applied.
For a number of reasons, Ubuntu 21.10 did not roll out the latest version of GNOME. Perhaps GNOME 41, or GNOME 42 right away, will appear in Ubuntu 22.04 LTS.
Only two Yaru themes
In GTK4, the GUI framework used by GNOME applications has been modified to use only the same color for text throughout the window, including the title bar.
These changes forced the Budgie UI developers to change the toolkit from GTK to EFF. The developers of Yaru, the default Ubuntu theme family, have simply dropped the dark-titled theme. In Ubuntu 21.10, only two themes remain: completely light and dark.
Firefox as Snap
Canonical is doing its best to promote its own self-contained package format in Ubuntu: from preinstalling applications in the form of snap packages to automatically installing Snap when trying to install the Chromium deb package from the repository. Now, as a snap-package, the app is preinstalled, which is pinned first in the dock.
It uses the official Mozilla snap from the Snap Store. The Firefox Deb package remains in the Ubuntu repositories and can be easily installed using the command:
sudo apt install firefox
Software updates
Linux kernel updated to version 5.13: added support for Amazon Luna Controller game controller and Apple Magic Mouse 2 Bluetooth wireless mouse.
Thunderbird 91: redesigned initial setup wizard and built-in PDF viewer.
LibreOffice 7.1: dark theme, initial GTK4 support, action and settings search interface.
PulseAudio 15.0: added LDAC and AptX codecs.
Changes in editions
Ubuntu MATE: the MATE environment has been updated to version 1.26, which adds new features to the Caja file manager and the Pluma text editor.
Kubuntu: KDE Plasma 5.22 with adaptive panel transparency, improved Wayland support and a new background image called "Altai".
Xubuntu: XFCE 4.16, added Hexchat and Synaptic applications.
Ubuntu Budgie: Budgie 10.5.3, Raspberry Pi 4 builds have been generated.
Where to download
Ubuntu Desktop 21.10 images for any x86-64 and Raspberry Pi 4 computers are available at ubuntu.com/download. Images of editions with other environments are distributed from separate sites. An update from Ubuntu 21.04 will be available within a few days after release.
Sources: OpenNET, OMG! Ubuntu.