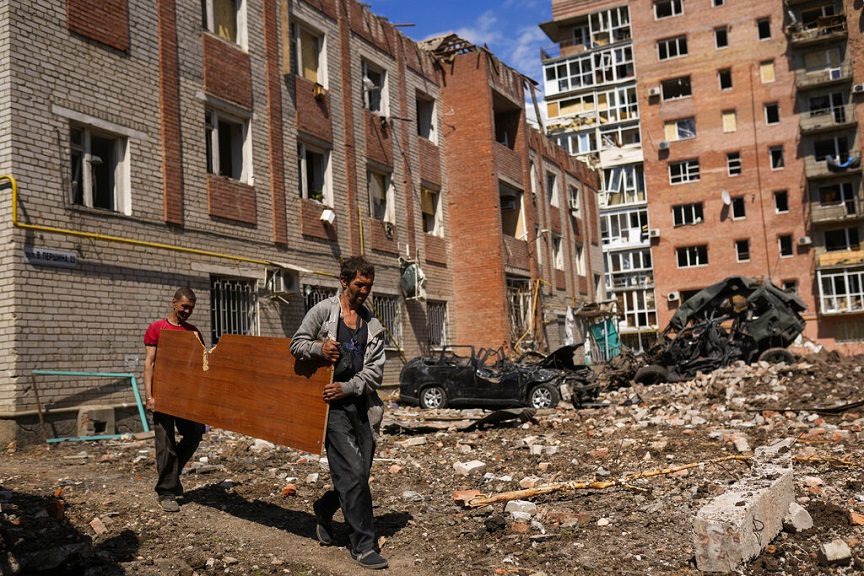 The Ukrainian authorities say they have figures for a possible 20,000 war crimes three months after invaded the country by the russian armyon the 24th of February.
Police alone recorded 13,500 such cases, the Ukrainian interior minister said Dennis Monastirski on Ukrainian television.
"We work with foreigners, prosecutors, investigation teams, experts, but most of the (investigative) work is done by Ukrainian police"he assured.
Evidence will be provided to international organizations in order to Russians accused of committing war crimes to be brought to justice, he added.
A young Russian soldier was sentenced this week to life in prison by a Ukrainian court in the first war crimes trial since the invasion began.
"The battles on the eastern front will decide the fate of the country"
Fighting in eastern Ukraine could determine the fate of the country, said a spokesman for the Ukrainian Defense Ministry. Oleksandr Motuzyanik.
Three months after the start of the war, Russian forces attempt to encircle Ukrainian troops in two towns on the banks of the Siversky Donetsk River. According to Motuzyanik, Russian forces have not given up trying to cross the river.
"We are now watching the most active phase of the large-scale offensive launched by Russia against our country"said in a press conference broadcast on television.
"The situation on the eastern front is extremely difficult, because the fate of our country is probably being judged there at the moment."he stressed. The same was repeated by the President of Ukraine, Volodymyr Zelensky, in his night sermon.
During Wednesday night, at Kharkiv but also in new areas of Donbass new rocket attacks were launched.
82% of Ukrainians say a resounding "no" to territorial concessions, according to a poll
82% of Ukrainians believe that Ukraine should in no case cede any of its territories in the context of a peace agreement with Russia, according to a new survey by one of the most prestigious polling institutes in Ukraine.
In a poll conducted by the International Institute of Sociology in Kiev between May 13 and 18 and published yesterday (24/5), 82% of respondents said they do not support territorial concessions, even if this position prolongs the war and increases the threat to Ukraine's independence.
10% of the 2,000 people who took part in the survey considered it acceptable for Ukraine to cede territories in order to achieve peacewhile 8% said they were undecided. According to the poll, 77% of Ukrainians living in Russian-occupied territories oppose any concession of land.
The Ukrainian government has repeatedly said it has no plans to make territorial concessions to Russia and has said it does not seek a ceasefire at this time despite calls from European leaders, including German Chancellor Olaf Solz and Italian Prime Minister Mario Draghi.
In an interview with Reuters on Saturday, Ukrainian negotiator Mikhail Pontoliak stressed that for the time being any ceasefire would simply delay the resumption of hostilities.

Source: News Beast