Tonight there will be a significant astronomical event – the peak of the Leonids' Starfall. The "main starfall of November" was reported by the press service of Roscosmos with reference to the Moscow Planetarium.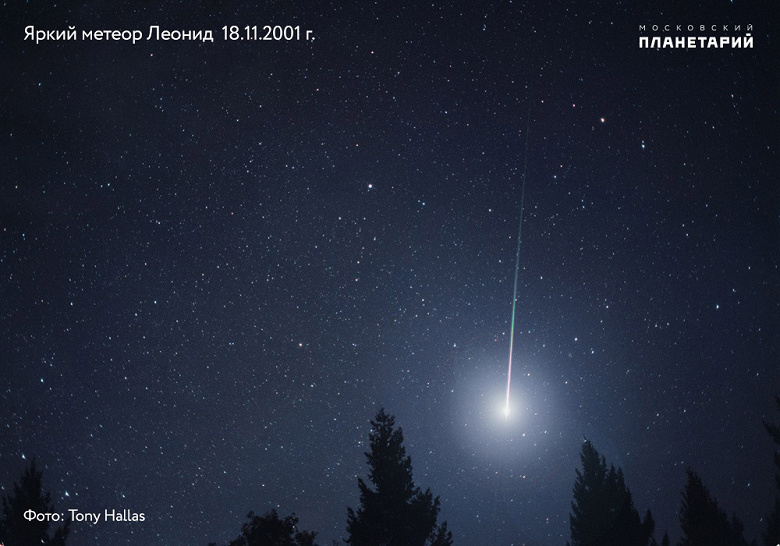 As the employees of the latter note, the conditions for observation of Leonid in 2021 are unfavorable. The coming full moon (November 19) will significantly interfere with observations, but in itself it will be very interesting – on November 19 it will be possible to observe a partial eclipse of the Moon with a maximum phase of 0.97. Only residents of the Far Eastern regions will be able to observe this phenomenon in the evening.
As for the starfall, the Leonids in 2021 are expected from November 6 to 30. Its peak falls on November 17, and on the night of November 17-18, the meteor shower will reach its maximum activity – about 15 meteors per hour.
The Leonids are the most famous meteor shower. It has been known for over 3,800 years and is named for the constellation Leo, in which its radiant is located. In fact, the source of the Leonids is the comet Tempel – Tuttle (55P / Tempel – Tuttle) – a short-period comet from the Halley family.
Leonids are very bright and fast white meteors that enter the Earth's atmosphere at a speed of 70 km / s. The intensity of the starfall varies from year to year and depends on the density of the flux through which the Earth passes. For success in observing "shooting stars", it is desirable to have the most cloudless sky and the absence of lunar illumination.
The comet approaches the Sun every 33 years. The brightest starfalls were observed in 1833, 1866, 1966, 1999 and 2001. 55 years ago, in 1966, during a meteor storm from the constellation Leo, the inhabitants of the Earth observed 10,000 meteors per hour – that's 2 or 3 meteors per second. According to the forecast of the International Meteor Organization, a similar powerful meteor storm could only be repeated in 2099.
.

I am Derek Black, an author of World Stock Market. I have a degree in creative writing and journalism from the University of Central Florida. I have a passion for writing and informing the public. I strive to be accurate and fair in my reporting, and to provide a voice for those who may not otherwise be heard.