Abbas' statements from the chancellery in Berlin about "50 Holocausts at the expense of the Palestinians" have caused an uproar. The government representative "takes it upon himself".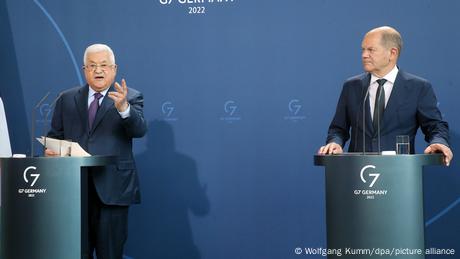 The statements of the President of the Palestinian Authority, Mahmoud Abbas, at the joint press conference with Olaf Scholz yesterday afternoon at the chancellery have caused a wave of reactions in Germany, but also internationally. Mahmoud Abbas directly from Berlin accused Israel of committing "50 Holocausts" against Palestinians, when asked about the 50th anniversary of the attack on the Israeli team by Palestinian hijackers at the 1972 Olympics.
Immediately after the response about multiple Israeli "Holocausts" against Palestinians, government spokesman and moderator of the interview Stephen Hembestright hastily ended the proceedings, with Chancellor Olaf Solz not giving any response to what Abbas said. Only the camera, immediately after the controversial press conference captured an angry Olaf Solz passing Mahmoud Abbas in the corridors of the chancellery.
Soltz's rage via twitter and Hebstreit's mouth
A little later came the reaction of the chancellor Olaf Solz via twitter declaring "outraged by the unimaginable statements of Mahmoud Abbas". As he emphasized: "Especially for us Germans, any relativization of the Holocaust cannot be tolerated, it is unacceptable. I condemn any attempt to deny the crimes of the Holocaust."
On the other hand, Steffen Hebstreit already yesterday reported to the German news agency dpa that the "German chancellor was furious".
He even repeated today in the government briefing that the chancellor "regrets" that he was not able to intervene after Mahmoud Abbas's statement in front of the journalists.
The government representative even took responsibility himself, as he said, for the mismanagement of the press conference. "It was my mistake and I take responsibility for it," Stephen Hebstreit said characteristically.
Explanations by Mahmoud Abbas
From there, Mahmoud Abbas, after the intense reactions that were caused, clarified today that he had no intention of questioning the Holocaust of the Jews, characterizing it as the "most heinous crime that has been committed in history". But he wanted, as he notes, to show the crimes of the Israelis against Palestinians.
For his part, Josef Schuster, president of the Central Jewish Council of Germany, speaks of the desecration of the memory of six million Jews and all the victims of the Nazi Holocaust. The Christian Democrats also came under heavy criticism, with main opposition party chairman Friedrich Merz strongly criticizing Olaf Solz's stance, saying he should have stopped the press conference.
And Israeli Prime Minister Yair Lapid responded to Mahmoud Abbas' statements by noting: "For Mahmoud Abbas to accuse Israel from German soil of committing '50 Holocausts' is not only a moral disgrace but also a monstrous lie. Six million Jews were murdered in the Holocaust, including one and a half million children. History will never forgive him." Olaf Solz is expected to have a telephone conversation with Yair Lapid about the incident in the chancellery tomorrow.
Dimitra Kyranoudis, Berlin
Source: Deutsche Welle
Source: Capital