Hundreds of police officers will be on alert at Capitol in view of a demonstration by supporters of Donald Trump.
A 2.44-meter-high black fence that surrounded the complex for about six months after the attack was repositioned as 100 members of the National Guard were on standby and security forces were checking on passengers arriving at Washington's nearest airport. in an effort to prevent violent incidents.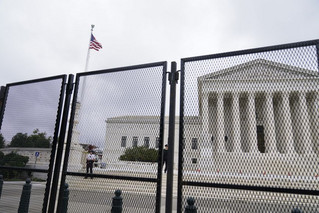 The organizers of the "Justice for January 6" march say they expect it to be held in a peaceful atmosphere, but Capitol Police Chief Jay Thomas Manger told reporters yesterday that "Some threats of violence have been made" in connection with the mobilization, where the police will try not to have clashes between Trump supporters and protesters.
More than 600 people were prosecuted for participating in the Jan. 6 riots, which followed a speech by Trump in which he reiterated his false claims that his election defeat by Democrat Joe Biden was the result of widespread fraud. The allegations were rejected by courts, election officials and members of the Trump administration.
About 50 people have so far pleaded guilty to charges related to the incidents. Most of the accused have been released pending trial, but 75 remain in custody, according to court documents.
Members of the far-right Proud Boys, Oath Keepers and Three Percenters are accused of breaking into the building.
Matt Brainard, a supporter of Trump's false allegations of corruption, who is organizing the march, said that hopes that this will lead to the release of those accused of participating in the events of January 6.
"What we really want to do is bring to the fore the abuse of these people and encourage federal lawmakers to ask the Department of Justice to do real justice to these people. And that means, in many cases, the charges are dropped. ", Brainard stressed, in an interview with C-SPAN.