Authorities are searching for a gunman who fled when his gun accidentally fired at Hartsfield-Jackson International Airport. Atlanta, sowing terror in panicked travelers who started running on the runway, interrupting flights for about two hours yesterday Saturday, on a day with heavy passenger traffic in the middle of the Thanksgiving holiday season.
According to the APE-MPE, three people suffered non-life-threatening injuries after the shooting that took place at 13:30 local time at the airport security checkpoint, the Transportation Security Service (TSA) said in a statement.
About two hours later, police were released and flights resumed, airport officials said in a Twitter post.
An arrest warrant has been issued for the 42-year-old gun owner, who was named by police as Kenny Wells.
The man is wanted on charges of carrying a hidden weapon inside a commercial airport, possessing a firearm by a convict, unloading a firearm and irresponsible use of a weapon, said Reginald Morman of the Atlanta Police Department in an interview with The Atlanta Police Department.
The bomber struck shortly after noon in front of a police checkpoint., the TSA reported.
"He told the passenger not to touch the bag and as the worker opened the case containing the prohibited item, the passenger grabbed the bag and snatched a firearm, which he fired at that moment," the TSA said.
The gunman fled the airport, although "he was not allowed to leave," airport spokesman Andrew Gobel told CNN.
"Because he was in the security checkpoint, we have all his details," Gobel said.
The immediate fear of an incident with an armed perpetrator panicked the crowd, which rushed out of the terminal, running on the runway.
"More and more people started running – screams could be heard", said traveler Erica Seidler, who sent photos to CNN showing dozens of people rushing to the airstrip, some pulling suitcases.
Police said one person called for first aid after falling from "the airport patio, which is not in the same area of ​​the security checkpoint, and two others complained of shortness of breath".
Hartsfield-Jackson was the busiest airport in the world in 2021, according to OAG, a provider of aviation analytics data.
Atlanta Airport was expected to have particularly heavy passenger traffic during the Thanksgiving holiday season, and pre-pandemic travelers were expected to pass through security checkpoints from Friday, November 19, to Sunday, November 28, the TSA reported.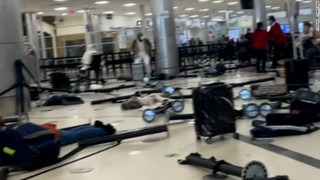 "Officials have vacated Atlanta Hartsfield-Jackson International Airport and operations are returning to normal," the airport administration wrote on Twitter.
A record number of firearms were seized at airport checkpoints USA only in the first nine months of 2021, the TSA reported. Nationwide, TSA officials prevented 4,495 airline passengers from carrying firearms on their flights, surpassing the 4,432 firearms seized in 2019. In Atlanta alone, 450 firearms were found at 20 airport checkpoints.