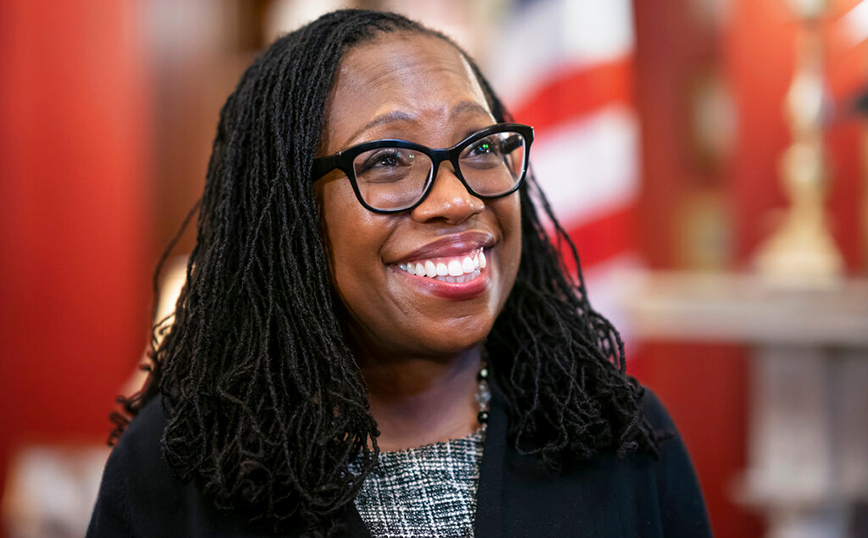 The 51-year-old judge is Joe Biden's choice for Supreme Court of the USA.
Ketanji Brown Jackson is going to be sworn in today and become the first black woman a judge appointed to the Supreme Court of the USA. Her appointment is historic.
According to the Athenian News Agency, 51-year-old Jackson will be one of the 3 liberals dmembers of the Supreme Court, in which the Conservatives have a majority. She was elected by President Joe Biden to replace fellow Liberal Judge Steven Brier, and was sworn in six days after the Court overturned a landmark 1973 ruling. which legitimized women's right to abortion.
The 83-year-old Breyer, the oldest judge in the Supreme Court, officially resigns today at noon (local time, 19:00 Greek time), when the swearing-in ceremony of Jackson is scheduled. Breyer, who was appointed in 1994 by then-President Bill Clinton, announced in January that he intended to resign.
A Reuters / Ipsos poll this week found that a majority of Americans (57%) have a negative view of the Supreme Court following its decision on abortions, a significant change from a month earlier when a small majority had a positive view.
Jackson will become the corps' 116th judge and the sixth woman to serve on it since its founding in 1789. Just before that, two other black judges have been appointed to the Supreme Court.
Like the three Conservative judges appointed by Donald Trump during his tenure, Jackson is young enough to serve in that position for many decades.
The Senate approved her appointment on April 7, with 53 votes in favor and 47 against, after winning the support of three Republicans.
"It took 232 years and 115 other appointments for a black woman to be selected to serve on the US Supreme Court," she said on April 8 during a ceremony for her appointment. "But we did it, we all did it."
With the appointment of Jackson for the first time in the Supreme Court, four women are serving.
Source: News Beast