War in Ukraine: Corpses and destroyed buildings set the stage for chaos in the long-suffering Mariupol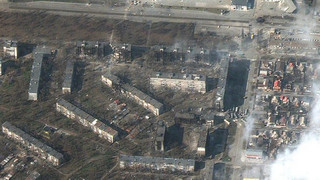 A Golgotha ​​is experienced by those who have remained in Mariupol after 24 days war in Ukraine. Corpses that have not yet been collected, wrapped in blankets, coats, any kind of blanket, lie in uncovered areas that have been cleared of debris. The dead are often buried in mass graves.
Around it stand blackened skeletons of high-rise apartment buildings, typical buildings of the Soviet era. Molten or dissolved metals hang from balconies. Broken windows, wood, irons are scattered between buildings and in the streets.
About 400,000 people have been trapped in the strategic port city in the Sea of ​​Azov for more than two weeks. They are struggling to protect themselves from heavy bombardment that has cut off electricity, heating and water, local authorities say.
Russia's Defense Ministry said yesterday that its forces were "tightening the noose" around Mariupol and that hostilities were taking place in the city center.
Without water or heating, women gather in places where they have lit fires to cook whatever they can find. As spring approaches, there is no more snow so they can melt it to meet their water needs.
Residents say no one expected this in post-Soviet Ukraine, although some experienced other upheavals that shook the country when it was under Soviet rule.
"He had a Russian passport, Russian citizenship, a lot of medals," said Alexander, 57, pointing to the open area where his mother-in-law's body is currently lying. "My mother-in-law was born in 1936. She survived the siege of Leningrad", he said, referring to the 900-day siege of the city now known as St. Petersburg by the Nazis. "She was honored as a fish farmer in the Russian Federation. And now, here it is. "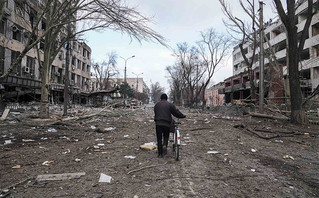 Officials in Mariupol say that 2,500 people have died since Russian forces invaded on February 24. The governor of the Donetsk region, Pavlo Kirilenko, said yesterday that about 35,000 people have managed to escape the city in recent daysmany pedestrians or with car convoys the rare moments when the Russian bombing stops.
Those who are left behind are often in despair – and the cold and anxiety are becoming more intense.
"I feel awful. I do not want to blame anyone, but I am disgusted and scared. And I'm cold ", says Olga, with a pink hat under her hood and a large coat. "I have no more words. "I was not prepared for my life to be like this."
THE Russia denies targeting civilians and accuses Kyiv of using them as human shields. Ukrainian officials deny it.
Mariupol is considered a strategically important "prize" for the Russian invaders wanting to annex Crimea, annexed by Moscow in 2014, and the two breakaway regions of eastern Ukraine.
Last week, a hospital where a maternity hospital was bombedwith patients taking to the streets to be saved.
A theater used as a shelter by families who were forced to flee their homes was also bombed – despite the fact that the word "children" was written on the ground abroad in letters so large that it could be read by aircraft pilots.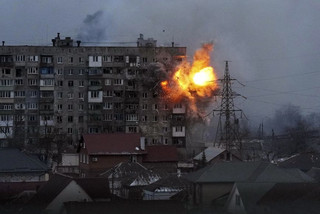 A special sense of solidarity has developed among the residents who fear for their lives. Residents offer shelter to strangers.
"We spent two days in a basement. He could not move. "I thought she would not survive," said a middle-aged resident, pointing to her elderly mother.
"After that, we managed to get out of the basement. This is the first time I have seen these people. But they gave us shelter. And now we are sitting here, wrapped in blankets. It is too cold here. We just want to go home. "
The children look with a look that reveals their confusion.
"Do not worry, my love. "Everything will be fine," she says, a sullen, young mother embracing her two children.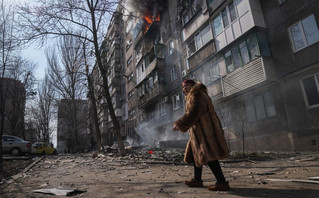 Outside, groups of people wander aimlessly, looking at the destroyed buildings.
They are surrounded by the dead. The only thing that helps to recognize them are pieces of paper, stuck on makeshift crosses, each with a name and the dates of birth and death; there is no indication of when they will be collected.
Source: News Beast