A distinguished Ukrainian ballet dancer, who this week lost his life fighting on the front lines against Russian forces that have invaded his country, was honored today at a ceremony at the National Opera of Ukraine.
The National Opera described Oleksandr Shapoval, who was killed by a Russian mortar explosion in eastern Ukraine on September 12, as a "courageous romantic" and brave fighter.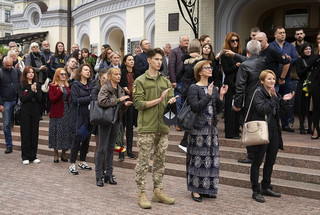 People applaud during a funeral ceremony for Oleksandr Shapoval, a ballet dancer soloist of the National Opera who was killed as a volunteer soldier in a battle in the Donetsk region, at the National Opera in Kyiv, Ukraine, Saturday, Sept. 17, 2022. (AP Photo/Efrem Lukatsky)
He later went to fight in the Donetsk region of eastern Ukraine, the scene of some of the heaviest fighting during the war.
Source: News Beast