A month of war and Russia is stepping up airstrikes in Ukraine, where the general staff announced earlier today that it had more than 250 flights, about 60 more than the previous year.
The targets of the Russian Air Force were mainly located in and around the area KyivChernihiv and Kharkiv.
The Ukrainian General Staff also said that 11 "enemy targets in the air" were hit yesterday: seven aircraft, a helicopter, a remote-controlled unmanned aerial vehicle (UAV) and two Cruise missiles. He did not say whether they were shot down.
This information is impossible to verify independently, according to the German Agency and the Athenian News Agency.
The war in Ukraine at the European Council
Russia's ongoing military offensive against Ukraine will be the focus of the European Council, which will begin today at 5:30 p.m. (Greek time) in Brussels with the participation of US President Joe Biden.
The President of Ukraine Volodymyr Zelensky will address a teleconference at the EU Summit, as well as at the NATO and G7 Summit in Brussels today. All Western leaders meeting today are expected to condemn the Russian invasion, support Ukraine and step up pressure on Moscow with unity and coordination.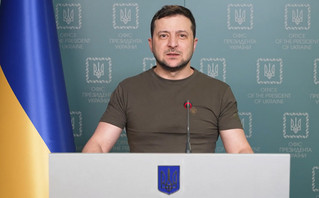 "As the war unfolds, we see Russia increasingly attacking the civilian population and targeting hospitals, schools and shelters. These war crimes must stop immediately. "Those in charge and their accomplices will be held accountable under international law," said EU Council President Charles Michel in a formal letter of invitation to European leaders at the summit, according to a response from the Athens News Agency.
The "27" will discuss how to further support Ukraine in these dramatic circumstances, as humanitarian needs within the country increase dramatically and millions of people have been forced to flee their homes. European leaders are expected to emphasize that they will continue to provide humanitarian, political, economic and material support to Ukraine and to consider concrete support for Ukrainian refugees and their host countries.
"We are ready to move quickly to further coordinated sanctions," Charles Michel noted in his letter. Sanctions are one of the main tools the EU has to put pressure on Russia to end the war, and together with its international allies, the strongest measures ever taken against Russia and Belarus have already been adopted. "We must now ensure that these sanctions are not circumvented," said Charles Michel.
As for EU energy policy, which faces even greater challenges with the war in Ukraine, European leaders agreed at the Versailles Summit phasing out EU countries' dependence on Russian gas, oil and coal imports as soon as possible. "We must now take immediate action to secure our energy supply for the coming winter," Charles Michel said in a letter, noting that the pressure on high energy prices could be eased in the coming weeks and months. to citizens and businesses.
Another crucial issue for European leaders is tackling rising food prices and ensuring food security.
After all, in the Security and Defense debate, European leaders are expected to adopt the "Strategic Compass", which sets out a security and defense perspective for the next decade.
Finally, on COVID-19, they will briefly discuss the latest coordination efforts to combat the pandemic.
Source: News Beast