The two million officially surpassed the Ukrainians who have fled their country after the invasion of the Russian army on 24/2 in the country, as stressed by the head of the UN High Commissioner for Refugees Filippo Grady.
«"Today the refugee flows from Ukraine amounted to 2 million." said Grady in a Twitter message.
The number of refugees from Ukraine amounted to exactly 2,011,312 and Poland has received more than half (1,204,403)according to the UNHCR website, which counts refugees.
"I believe we will exceed the limit of two million today or maybe tomorrow at the latest," Grady told a news conference in Oslo earlier in the day.
"This does not stop," he said, noting that after the first wave of refugees from Ukraine, there is likely to be a second wave of more vulnerable refugees.
Grady gave the interview following a visit to Romania, Moldova and Poland, three countries bordering Ukrainewhich welcome most of the people who leave their country after the Russian invasion.
In statements made today, the head of the UNHCR welcomed the "exemplary" reception reserved for these three countries by refugees.
According to the latest UNHCR figures, Romania and Moldova each hosted more than 82,000 refugees today. Large numbers of refugees – mostly women and children – then continue on to other destinations in Europe where they have relatives or friends.
This is the first time in Europe that this has happened since World War II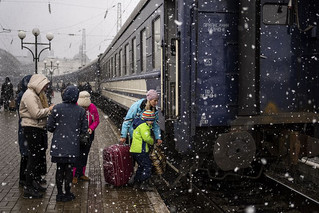 Grady said that "for the time being" these countries are managing to manage refugee flows, noting that these refugees have "some resources". "A large number arrive by car and, most importantly, they have connections, they can go where they have family, friends, a community," he added.
"If the war continues we will start to see people who do not have the resources and connections" he stated.
"This will be a more complicated situation for European countries to manage in the future and there will be a need for even more solidarity from around the world in Europe and beyond," he said, according to the Athens News Agency.
Grady also said that the wars in the Balkans, Bosnia and Kosovo had also caused huge waves of refugees, "maybe two or three million, but over a period of eight years". "It's been 8 days now," he said.
"Other parts of the world have seen this, but in Europe it is the first time since World War II," he said.
Source: News Beast