- Article Top Advertisement -
The immersion that technology offers people and companies brings solutions that previously seemed distant to everyday life. One of them is augmented reality.
Blending the real world with the virtual — and with the help of artificial intelligence, sensors and lenses — it has created possibilities in industry, architecture and even the world of games.
- Article Inline Advertisement 1-
While some people hear the term AR and don't associate it with anything, people enjoy the benefits of it without knowing what the name given to it is. So finally, what is augmented reality?
If you have this doubt, throughout this article you will understand not only its meaning, but also its operation, uses and impacts.
What is Augmented Reality?
Augmented reality (AR) consists of a technology that integrates virtual content into a real scenario using cameras. With this, it allows you to overlap elements — offering a real world with different eyes.
This technology is capable of creating a digital layer over any scene, in fact magnifying what is seen on a smartphone, tablet or any other device with a camera.
A point of attention here is that, although it also bears the name of expanded or augmented reality, AR is not the same thing as virtual reality.
While the former includes virtual elements in the real world, VR does the opposite: it creates virtual environments and transports people to these places through technological instruments such as glasses.
How does augmented reality work?
But how does augmented reality work? This system relies on a few basic components:
cameras and lenses : capture images and information from the real environment to be interacted with virtual objects and display the content on the platform;
sensors : take readings of objects, allowing the device to determine their location and characteristics;
computing : performs data processing, allowing AR to recognize objects identified with cameras and sensors;
artificial intelligence (AI) : performs data processing to perform more complex tasks, mainly within an AR application.
From these elements, augmented reality manages to accomplish its goal, creating an immersive experience for all users.
How does this technology impact your life?
Understanding what augmented reality is and how it works, it becomes easier to understand its impact on people's lives.
The impact of AR grows as internet access via mobile devices also increases. IBGE data from 2018 show that 98% of people aged 10 or over access the internet via cell phone.
If this is the environment in which AR can be taken advantage of, users are now contemplated by strategies that also take advantage of this technology within the devices.
And thinking about the general use of this solution, augmented reality can have three main impacts:
offers individualized learning from experiences;
variety of applications in continuous improvement;
increased accuracy and efficiency in uses.
4 examples of augmented reality
The best way to understand the impacts of AR is to see examples of augmented reality. Whether in games, industry 4.0, architecture or health, they exist. Discover these applications below.
Games
One of the most famous examples of augmented reality is games. The idea is to make it possible, within an application, to simulate virtual activities within the real scenario where the camera is pointed.
Pokémon Go is the best known of them, performing the interaction between a real and virtual character. When moving around the real world, players find Pokémon wherever they are.
For this, the game captures the location information and performs the insertion of the virtual character in the environment. The success was so strong when it was launched in 2016 that the game reached the mark of 40 million daily active users.
Industry 4.0
AR is also used as an element of industry 4.0, performing monitoring and maintenance more accurately. The idea is to integrate the industrial environment with a virtual projection.
These tools can improve the production process of industries, performing maintenance and analysis of machines in real time, as well as performing simulation tests.
Along with other technologies such as Big Data and artificial intelligence, AR can perform preventive and corrective maintenance and make processes more productive.
Architecture
Another example of augmented reality is within the architecture sector. The main use is the projection of the scenario within a real environment to know how it would really look.
For this, it is necessary to scan the environment where the projects will be implemented, carrying out an accurate reading of this location with cameras and sensors.
After that, you can make the project based on this technology, making the necessary changes and seeing how the assemblies will be.
The system also allows the client to have a sensorial experience with the project, even before the works begin.
Health
AR has also made significant advances within the healthcare industry. And this is mainly useful in carrying out safer and more accurate surgical procedures.
AR allows professionals the opportunity to gain hands-on experience during procedures without the risk of causing harm to themselves or patients. In other words, it is a new way of learning.
Through technology, too, medical personnel can learn virtually every aspect related to anatomy and surgery in a safe way. Furthermore, it is possible to simulate medical care with a virtual patient.
How are companies already using augmented reality?
Growing demand puts AR on the business radar: The global AR market size is expected to expand at a CAGR of 40.9% from 2022 to 2030, with an estimated value of USD 25.33 billion in the year 2021.
The data released by Grand Review Research they are not for nothing. Retail companies are one of the sectors that have most taken advantage of this tool within their businesses.
Stores like IKEA brought innovations in this sense. In 2013, the company launched an app so that the public could view the products it sells inside their own homes, using the camera.
This facilitated the choice of items in relation to the size and design of the products, making people make more accurate purchases — which increases public satisfaction.
Bringing another retail example, in Brazil, the Coral paint brand also invested in an app to solve a common doubt for those who paint the house: which color to choose.
The company delivers a differentiated technology so that different shades can be compared and combined and, naturally, manages to sell its product better.
Apps with this technology for you to test
To diversify the uses of applications, we bring you some options so that you can easily test how to take advantage of AR.
Google Maps: Live View
the application of Google Maps has a feature called "Live View" that allows users to view the chosen routes in augmented reality.
The camera, when activated, shows visual indicators to follow the path and shows the final destination. It is possible to use both android as in iOS.
Measure (iOS)
Another interesting AR application is Medida, available only on iOS. It works as a kind of measuring tape, allowing you to measure the size of objects around you using the camera.
To use it, you just need to open the app and, to add the points, click on the "+" icon.
ink hunter
Ink Hunter is the AR solution for anyone looking to get a tattoo. The app lets you test how a tattoo will look.
Using it is very simple: you just need to mark the space on your body with a pen and point it at the camera. You can download this app either on android as in iOS.
Frequently asked questions about AR
When did augmented reality come about?
The beginning of what would lead to the creation of AR began in the 1960s, with researcher Ivan Sutherland.
He designed a direct optical vision helmet to visualize 3D objects in the real environment. But, officially, the term was only created in 1992 by Thomas P. Caudell, scientist and researcher.
How can augmented reality be used?
It can be used in many ways: in the world of games, industry, architecture, health and retail.
What is augmented and virtual reality?
Augmented and virtual reality are not the same thing.
AR is one in which virtual objects are created in a real scenario through the camera. The virtual one creates a 3D scenario that can be accessed by people through glasses.
If you want to keep following articles about tech, take the opportunity to browse more articles about technology.
Source: CNN Brasil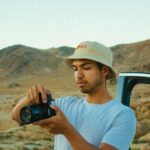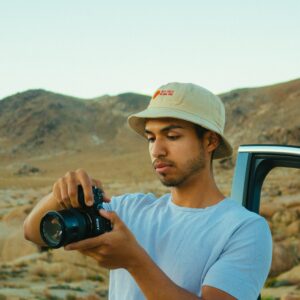 Charles Grill is a tech-savvy writer with over 3 years of experience in the field. He writes on a variety of technology-related topics and has a strong focus on the latest advancements in the industry. He is connected with several online news websites and is currently contributing to a technology-focused platform.
- Article Bottom Advertisement -