The exponential growth in demand for wireless connectivity in smart home, logistics, manufacturing, and other end-user applications has led to iterative upgrades to Wi-Fi technology. According to TrendForce, among modern technologies, Wi-Fi 5 (802.11ac) is the main one, while Wi-Fi 6 and 6E (802.11ax) are at the implementation stage. To meet the connectivity demands of new concepts such as the "metaverse", many major manufacturers have focused on the next update of the Wi-Fi standard (802.11be), known as Wi-Fi 7. Under these circumstances, Wi-Fi is expected to 6 and 6E will surpass Wi-Fi 5 to become a mainstream technology as early as 2022, accounting for 58% of the global Wi-Fi market.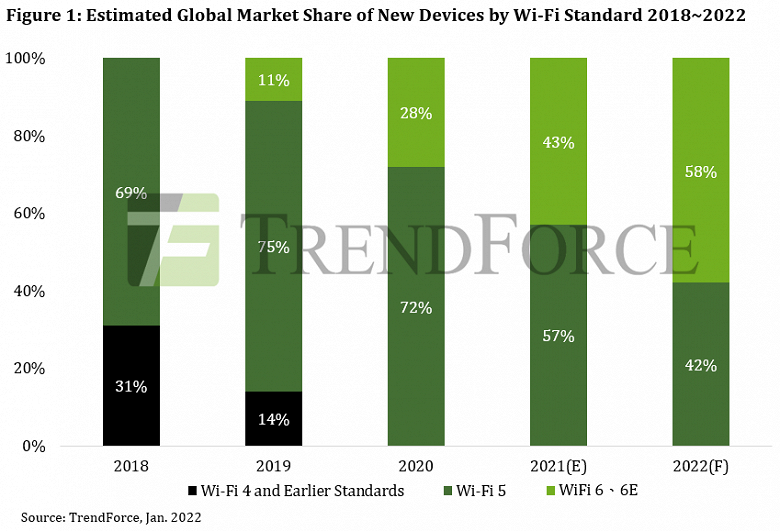 The benefits of Wi-Fi 6E include greater bandwidth and security than what Wi-Fi 6 provides. Moreover, in terms of the highest output cost vertical IoT sector, smart manufacturing still mainly uses Ethernet and mobile networks. 4G/5G as the main communication technologies in today's smart factories. However, back in 2019, major British aerospace equipment manufacturer Mettis Aerospace and the Wireless Broadband Alliance (WBA) conducted phased testing of the practicality of Wi-Fi 6 in factories and concluded that Wi-Fi 6 could become widespread in manufacturing.
TrendForce believes that the adoption of Industry 4.0 technology tools will become more widespread, and the degree of digitalization within companies in the post-pandemic era will increase, while 5G and Wi-Fi are expected to have a complementary and synergistic effect. As for Wi-Fi 7, the implementation of this technology will take place from the end of 2023 to the beginning of 2024.