Immediately after the announcement of a new series of flagship smartphones Xiaomi 12S, the Chinese company introduced its new laptops – Book Pro 14 and 16. The manufacturer does not hide the fact that the new models have become direct analogues of the MacBook Pro 14 and 16 inches.
Xiaomi Book Pro 16 received a 4K touch display. According to official figures, it has the same delta-E value of 0.33, and the brightness is 600 nits. Xiaomi claims that the laptop is great for professional work. It is equipped with a 12th generation Intel processor (i5-1240P or i7-1260P) and complies with Intel EVO specifications to ensure the best user experience. The minimum case thickness is 14.9 mm.
Xiaomi Book Pro 16 is available in two versions that differ in processor and graphics card. The base model with Intel Core i5-1240P and integrated graphics is priced at 6,499 yuan ($930), while the upgraded version with Intel Core i7-1260P and RTX 2050 graphics card is priced at 8,499 yuan ($1,215). Both versions are only available with one memory combination: 16GB of RAM and 512GB of storage.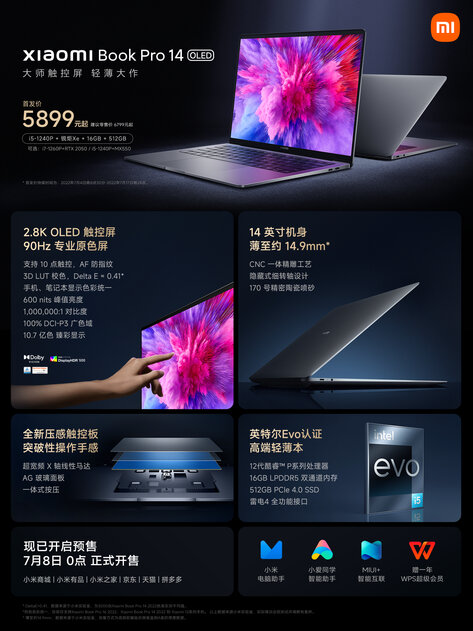 The base 14-inch model received a simpler display – also touch-sensitive, but with a resolution of 2.4K and a delta-E value of 0.41. However, its screen has an increased refresh rate of the picture – 90 Hz instead of 60 Hz. It also has a thickness of 14.9 mm and meets the specifications of Intel EVO. The processor and memory combinations are the same, but the younger model received an additional modification with a GeForce MX550 video card (i5-1240P processor).
Source: Trash Box