Xiaomi's first foldable smartphone, the Mix Fold, was quite bulky, even by the standards of its time, when it debuted in April 2021. It weighs 317 grams (and the ceramic model is 15 grams heavier), while the thickness when folded reaches 17.2 mm.
Almost a year and a half later, the company introduced the Mix Fold 2, which has become completely different: it has significantly decreased in size, dropping almost 18% of the weight and 35% of the thickness. In fact, the Mix Fold 2 is now the lightest and thinnest large-screen foldable smartphone on the market, putting it ahead of even Samsung's latest Galaxy Z Fold 4.
Looking ahead, it's worth saying that not everything about the Mix Fold 2 is great. There is an obvious drawback, which will be discussed later, but now we can safely say that the novelty has become a breakthrough in hardware in the foldable device market, and it definitely set the bar for the future.
Design and hardware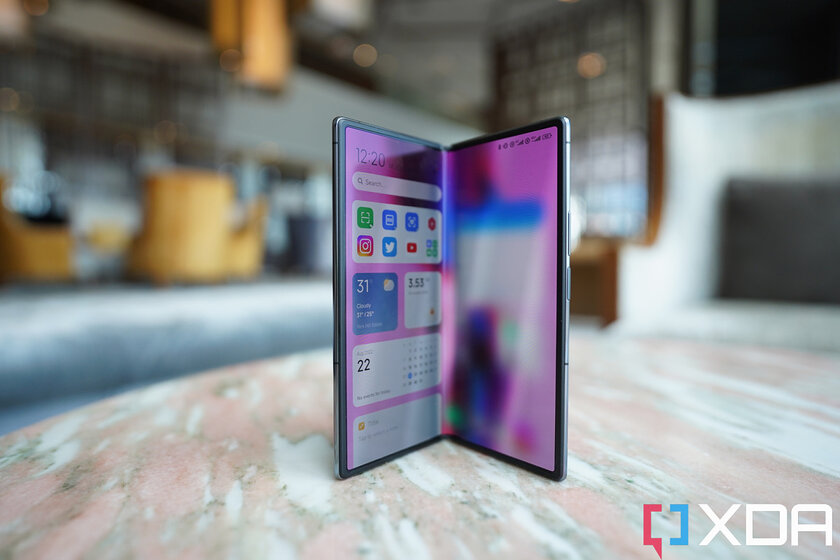 First of all, Mix Fold 2 stands out precisely for its dimensions: with a weight of 262 grams, its thickness when folded is only 11.2 mm (and when unfolded – 5.4 mm). These are record figures in the segment of such devices. In fact, Xiaomi was able to get rid of one of the key drawbacks of foldable smartphones, which have been complained about for years – an overly bulky case that is almost twice as thick as a regular phone. Now it's not.
The main screen of the Mix Fold 2 is an internal 8-inch LTPO 2.0 OLED panel with a resolution of 1914×2160 pixels. It's covered in ultra-thin glass, has a max refresh rate of 120Hz, and mostly feels great. But the crease at the fold is a little more noticeable than other Chinese folding devices. However, it is still not as deep as Samsung clamshells.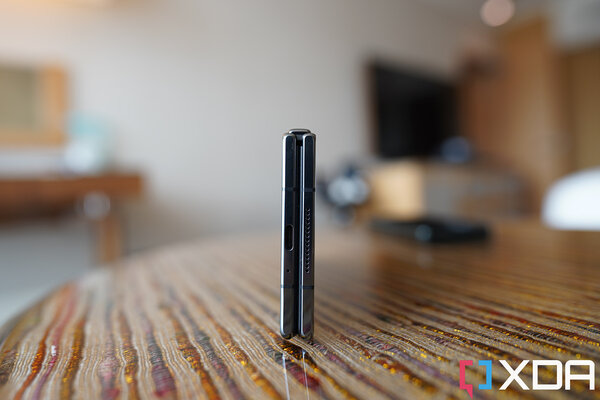 Mix Fold 2 and Fold 1
The aspect ratio of the main screen is much closer to a square (4:3.55) compared to last year's screen in portrait orientation. Xiaomi took this step to ensure that the Mix Fold 2's secondary 6.5-inch external screen has a more traditional aspect ratio (21:9). In the first Mix Fold, everything is completely different, its external screen has a very elongated 27:9 aspect ratio.
With a more traditional folded aspect ratio and a lighter, thinner body, the Mix Fold 2 folds like a regular smartphone.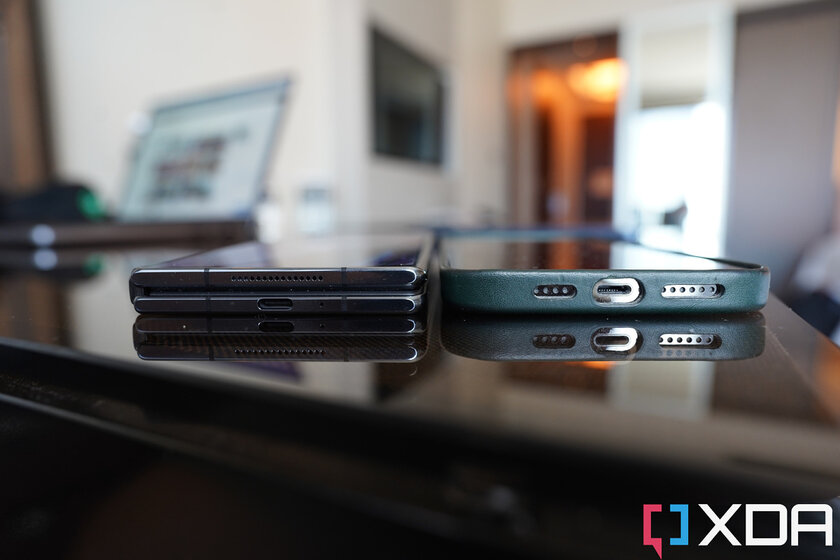 Mix Fold 2 and iPhone 13 Pro Max
It is worth noting that the main display is covered with ultra-thin glass, so there is no terrible sensation of scratching on plastic at the fingertips.
The hinge feels solid and doesn't protrude from the side when folded like it did on the Samsung Galaxy Z Fold 1-3, but there's one obvious downside: it can't hold the phone between fully folded and fully unfolded – in other words, the phone won't fold out. in the shape of the letter "L", so that it resembles an open laptop.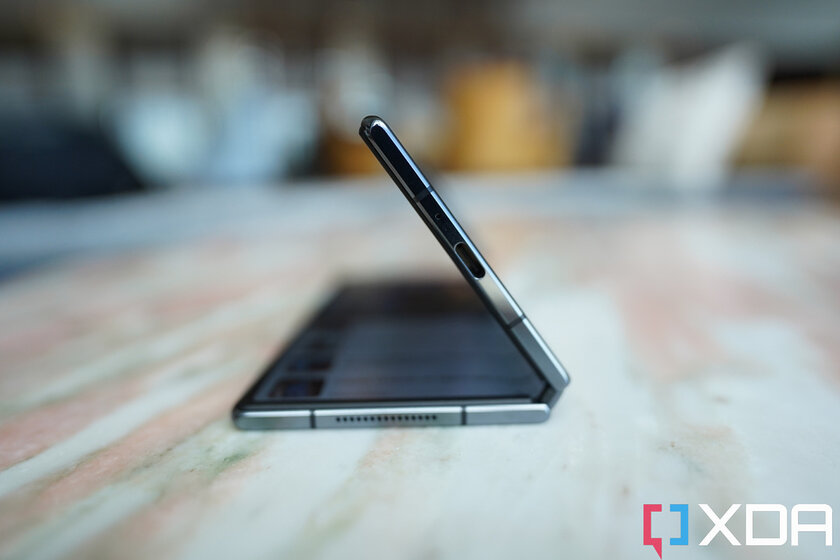 In this position, the hinge does not hold the screen, it falls
Personally, this feature of other foldable devices is very useful for me for taking selfies, as well as for video calls on the road. So this omission is striking and is the biggest complaint about the Xiaomi Mix Fold 2, at least for me.
Filling
Despite its slim design, the Mix Fold 2 still managed to fit a 4,500mAh battery, which, combined with the power-efficient Qualcomm Snapdragon 8 Plus Gen 1, provided excellent battery life in my testing. But I've only been walking around with this smartphone for three days, so there aren't enough tests to make a definitive conclusion about battery life. The smartphone offers three storage capacities: 256 GB, 512 GB or 1 TB, but in all modifications the amount of RAM is the same – 12 GB.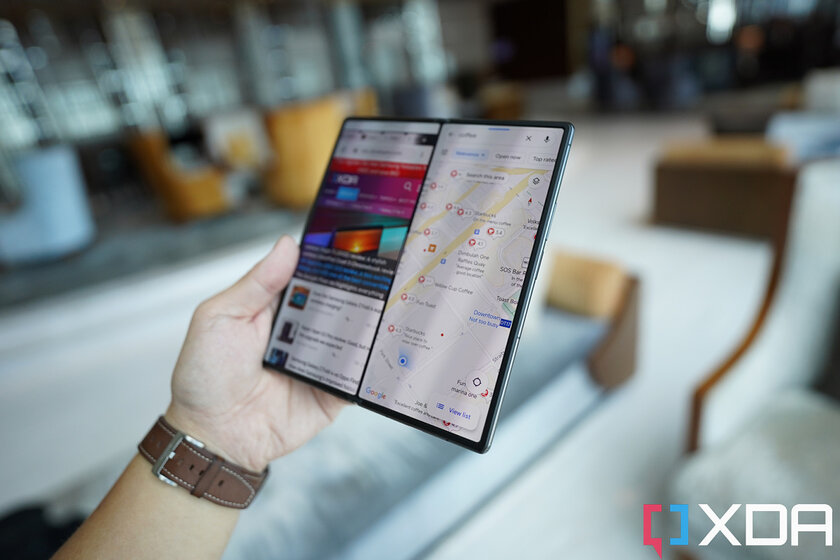 The fingerprint scanner is built into the power button on the side, and there are two symmetrical Harmon/Kardon tuned speakers at the top and bottom. The vibration motor inside the Mix Fold 2 works fine, but it doesn't work as well as the model in Xiaomi's flagship and even mid-range smartphones. As for me, he is just normal – but nothing more.
cameras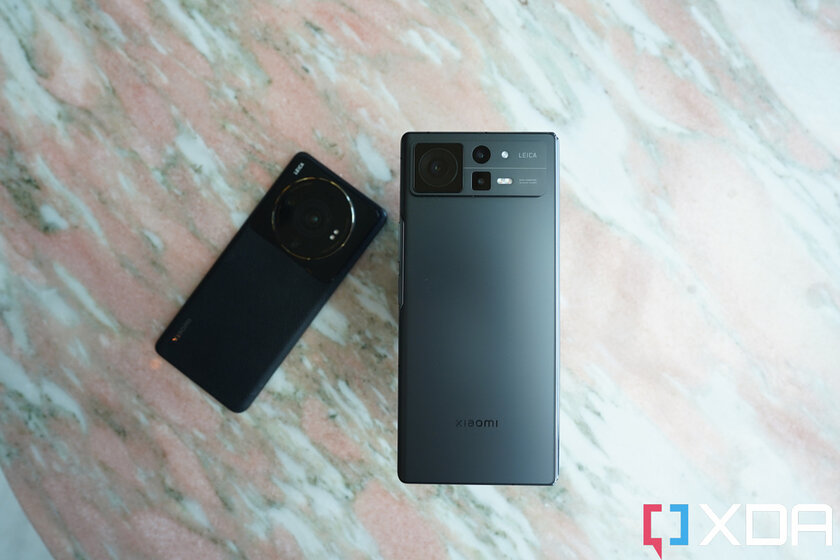 Mix Fold 2 is equipped with four cameras: a 20-megapixel front, located in the hole on top of the external display, and a three-module system on the back. There is a main camera of 50 MP (f / 1.8), wide-angle of 13 MP (f / 2.4) and telephoto of 8 MP (f / 2.6, optical zoom 2 ×). At the same time, there is no front camera in the internal (large) screen.
Judging solely by the hardware characteristics, this is clearly not the top Xiaomi camera system. The same 12S Ultra, released last month, features a larger sensor main camera with an eight-element lens and a periscope for 5x zoom. But it's not just about the hardware: the Mix Fold 2 is also equipped with cameras created in collaboration with Leica. Judging by the results of the first tests, the main camera of the Mix Fold 2 takes excellent photos with excellent HDR performance.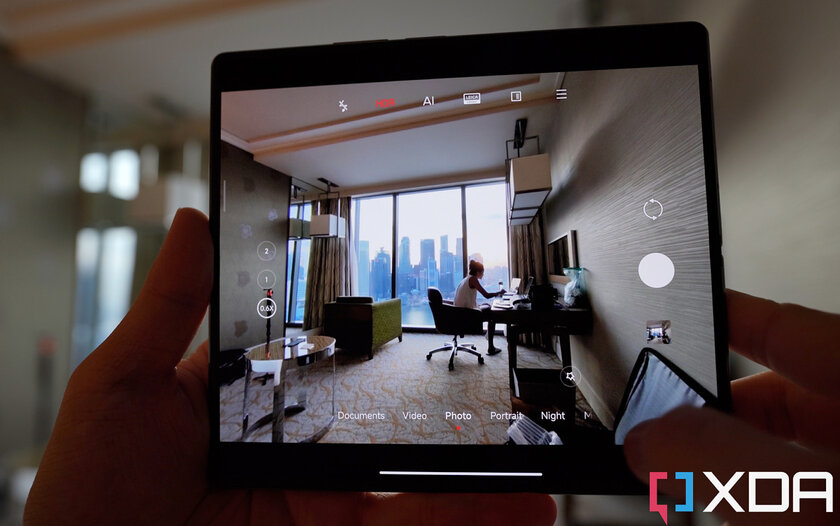 For example, in the photo above, you can see that I am shooting against a backdrop of very bright sunlight coming through a window. However, in the final photographs, both the main and the wide-angle cameras are correctly exposed.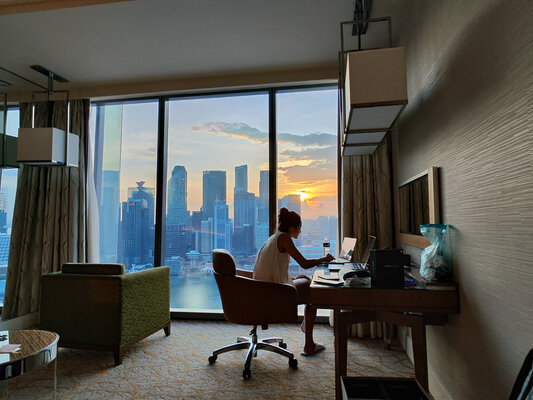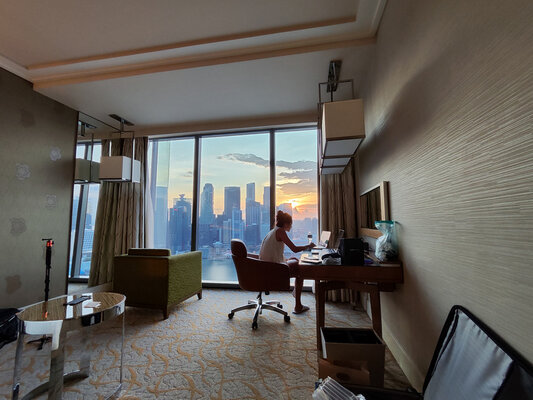 Shot on the main and wide-angle cameras
The 2x zoom lens delivers decent sharpness, but there is a subtle color shift compared to the main camera. In addition, 2x optical zoom is a bit lacking in 2022. The digital zoom tops out at 10x, but there is a noticeable loss of detail.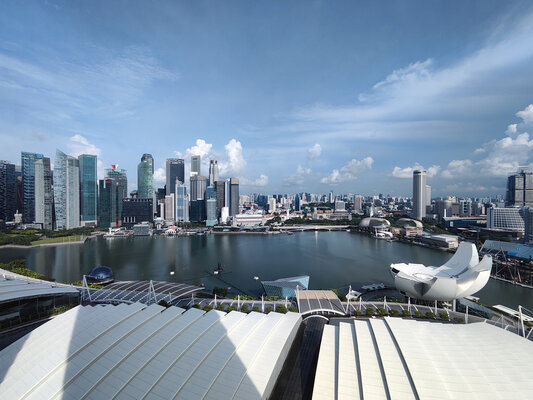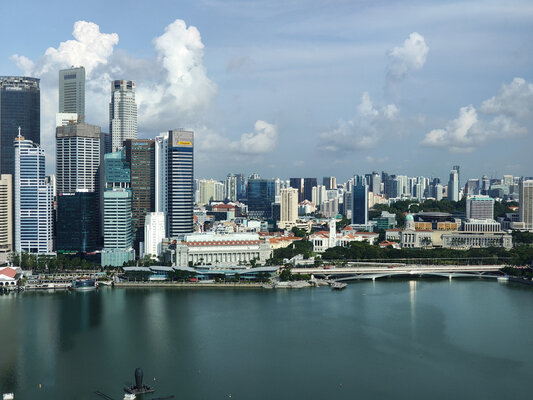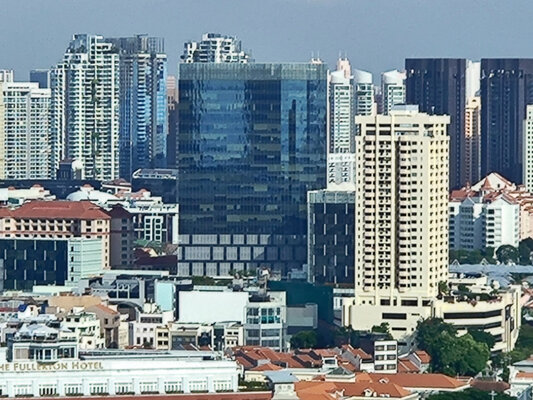 Shot on the main camera, telephoto at 2x zoom and at 10x zoom
Software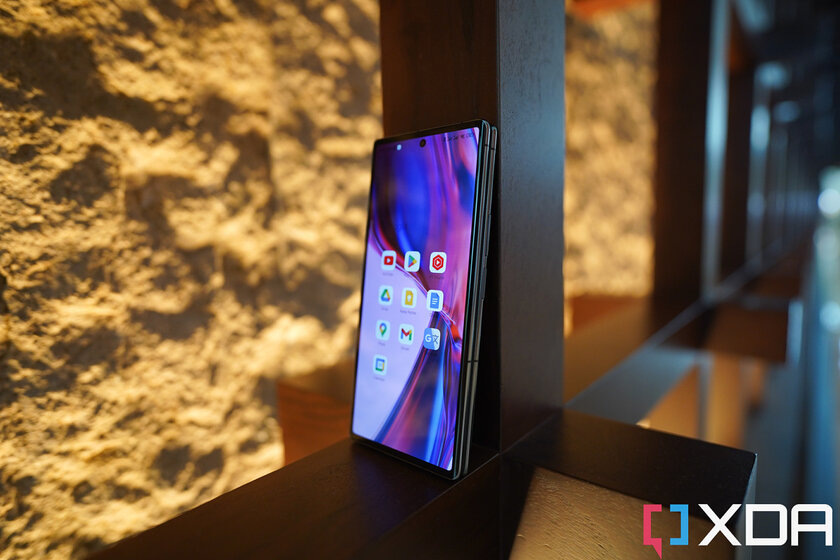 Xiaomi Mix Fold 2 runs Android 12 with a special version of MIUI called MIUI Fold. The absence of Android 12L or 13 is disappointing, but the MIUI Fold is well thought out, with an intuitive multitasking system that allows you to run apps in split-screen or resizable floating window mode.
However, the software is not yet as polished as the same Galaxy Fold. For example, in split-screen multitasking, you can only split two apps vertically. This is fine for most apps, but for YouTube or other video apps (like Netflix) it's much better to have the horizontal split option as this aspect ratio is better suited for videos. Just check out how a YouTube video looks like in split screen mode on MIUI Fold: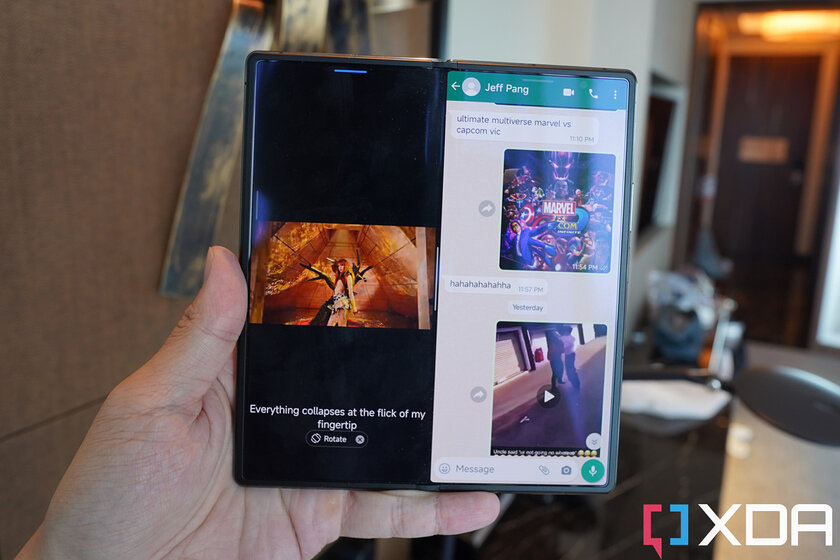 However, I am a person who often runs around the city doing work and social activities with my smartphone, and I appreciate the larger screen. I met up with a friend over the weekend and I was navigating Google Maps on one screen while asking him for directions on the other. Of course, I can do it on a regular phone too, but the card would be too small.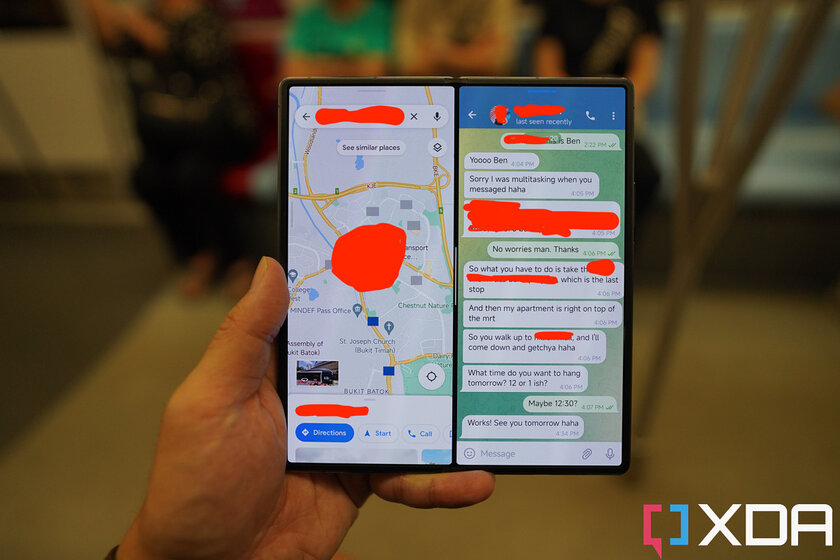 The Mix Fold 2 is only available in China, so it doesn't come preloaded with Google apps. However, the smartphone has the Google Mobile Services framework installed, so all I had to do was install the Google Play Store (available even directly from Xiaomi's own app store) and I could start installing all the typical apps people use outside of China: YouTube, Google Maps and others.
Review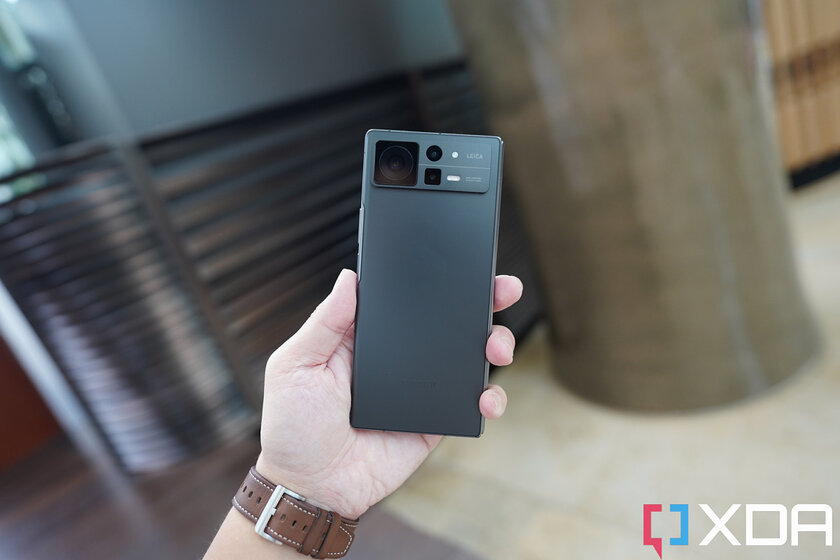 First of all, it is worth emphasizing once again that at the time of writing this review, I have only been using the Xiaomi Mi Mix Fold 2 for a couple of days, and this is by no means a full review. However, I am so familiar with using Xiaomi clamshells and smartphones that I already have a general idea of ​​the pros and cons of the Mix Fold 2. I know that 2x zoom will not be enough for me, because I like to shoot people and things on city streets, and for tasks are much better suited for a 5x and even 10x zoom lens. I am also sure that the Xiaomi Mix Fold 2 firmware will not be as well optimized for Google apps, including YouTube and Google Meet, as it is in the Galaxy Z Fold 4.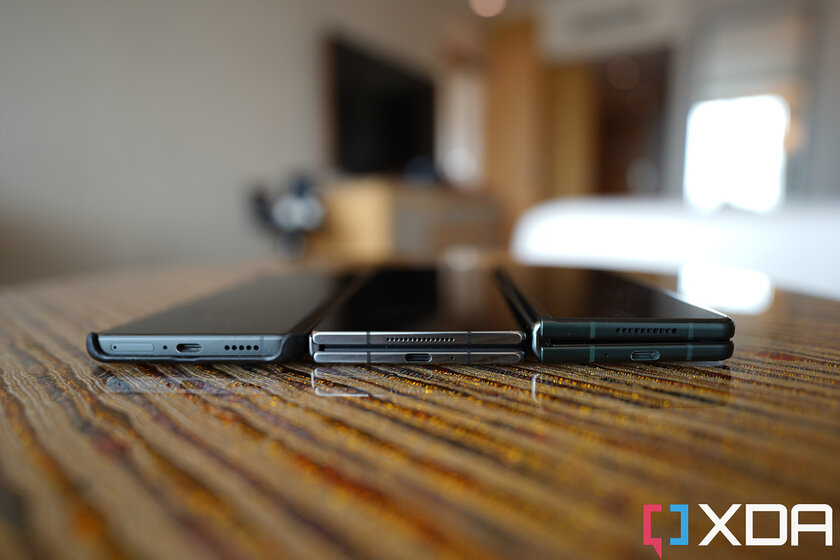 From left to right: Vivo X80 Pro with case, Mix Fold 2 and Galaxy Z Fold 3
However, I already like how the Mix Fold 2 feels in the hand, especially when folded. As I said earlier, this large-screen foldable smartphone is the most similar to a regular phone among all its brothers. And I'm sure it's really important. I was (and still am) blown away by the foldable Huawei Mate X2 and Vivo X Fold, but both are too heavy for me to carry around on a daily basis, especially when I'm doing sports like cycling or even walking. As for Samsung's Fold series, I never liked how the first three devices looked when folded, with a bulky hinge and too narrow a screen. The Galaxy Z Fold 4 fixed this a bit, but the Xiaomi Mix Fold 2 is unbeatable when folded.
This is a translation of the XDA-Developers review.
Source: Trash Box

I am Derek Black, an author of World Stock Market. I have a degree in creative writing and journalism from the University of Central Florida. I have a passion for writing and informing the public. I strive to be accurate and fair in my reporting, and to provide a voice for those who may not otherwise be heard.